Enter the Best use of FastStats® 2013 Award
Posted: 06 Sep 2013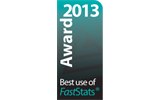 The entry form for the 2013 Best use of FastStats® Award is now available.
The winning entry will be announced at the FastStats® User Group Conference on Friday 15th November 2013 aboard the Silver Sturgeon at Savoy Pier in London. This year's winners will receive a Pebble, the e-paper watch for iPhone and Android.
This award is to celebrate the effective use of FastStats® to drive marketing activities and to reward those who have delivered measurable benefits to their organisation as a result. Apteco judges will score each entry and additional points will be allocated based on peer appraisal by delegates at the annual FastStats® User Group Conference. All delegates will be given the opportunity to vote for their favourite entry following an informal networking session and short presentation.
Click here to learn more.