Winning award entry announced at Apteco Live 2022
Posted: 29 Nov 2022
Apteco Live 2022, Apteco's 16th annual user group conference and first ever hybrid event, took place over two half days on 18 and 25 November. Apteco Live is considered one of the year's highlights for Apteco's partners and end users, and an opportunity to demonstrate the latest enhancements to Apteco's range of marketing software solutions.
For the first time in three years, day one saw delegates attend in-person at a Central London venue where the event was live streamed to online delegates in the UK and worldwide. The following week all delegates attended online where they watched this year's shortlisted finalists present their award entries before an online vote.
Winner of the 'Best use of Apteco software award 2022'
Apteco received some fantastic entries again this year for the 'Best use of Apteco software award' competition, all showcasing the effective use of Apteco software to drive marketing activities, improve the customer experience and reward those who have delivered measurable benefits to their organisation as a result.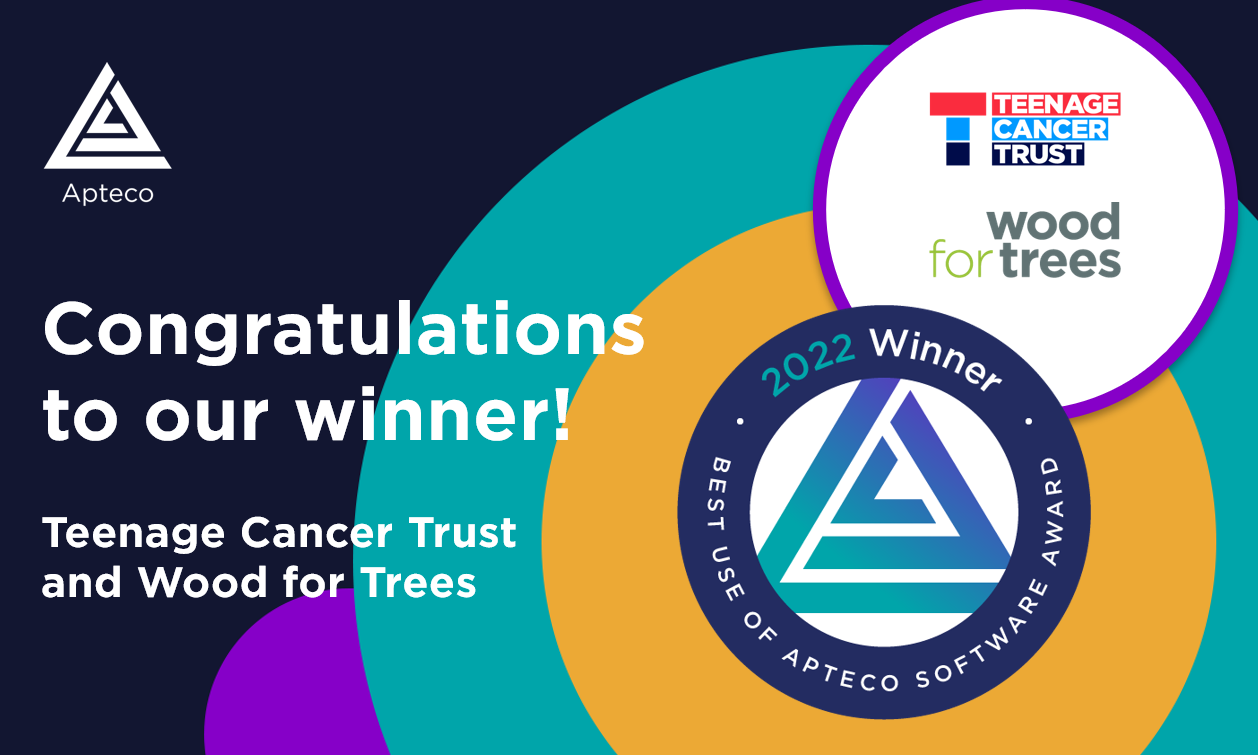 Congratulations go to Teenage Cancer Trust and Apteco premium partner and 2022 Partner of the Year Wood for Trees, who after live voting at Apteco Live 2022, were announced as winners of the 'Best use of Apteco software award 2022'. Teenage Cancer Trust is the only UK charity dedicated to supporting young people aged 13-24 through cancer. A significant part of their fundraising program sees income from mass participation events, with 1,500 supporters registering their places for various activities since 2019 and opting to fundraise for the charity.
The stewardship process related to these events was previously manual and time-consuming and restricted the ability to send tailored messaging. Historically, registered participants received a 'welcome', 'good luck' and 'well done' email. The goal was for each participant to receive up to nine emails, depending on the time between registration and the event, including personalisation and dynamic content.
As a result of this project employees at Teenage Cancer Trust have been upskilled and unified in data solutions and analysis. Moreover, supporters receive more personalised and relevant email content sent within communications intended to increase email engagement. This will ultimately increase fundraised income, with year one projected at a £200-£300k uplift. With more prompts, it's likely more fundraising pages will be created, which will improve the way funds are processed.
The charity now has more time, resources, and functionality to focus on building and implementing wider strategies. This supporter-centric approach will create brilliant experiences for fundraisers, whilst building brand awareness and increasing supporter retention and engagement.
Wood for Trees praised the software saying:
"Apteco marketing software has enabled us to deliver a highly detailed and tailored journey, using a range of the software's capabilities, from expressions in FastStats to PeopleStage's journey management functionality. All of this has been achieved in a short space of time owing to the software's ease of use."
Teenage Cancer Trust added to this, commenting:
"We've found the use of Apteco FastStats and PeopleStage to be of great benefit to our organisation, allowing easy access to our CRM data to perform quick and detailed data selections, whilst also offering a much greater analysis and supporter journey platform than our CRM system is able to offer."
Apteco would also like to congratulate Health Education England and their Apteco partner Paragon DCX who were finalists in this year's competition. DCX worked with Health Education England to transform their use of data and radically improve their communications, to help them continue to recruit their next batch of healthcare heroes.

Apteco would also like to congratulate Greene King and Paragon DCX again. Their second successful finalist submission detailed how they also worked with Greene King to transform their use of data to learn more about customer behaviour and improve their use of Apteco FastStats following new challenges the pandemic presented and the Government-enforced closure of the hospitality sector.
Learn more about Apteco's previous award winners in our awards hall of fame.