How can you make your colleagues listen to your data?
Is your message cutting through? Perhaps it doesn't seem authoritative enough?
When great insight isn't always enough
Sometimes you can work for ages to understand your customers and their behaviour, slaving over the data to try to extract the real meaning behind the figures. Then suddenly it all clicks and you find the clue that unlocks what's happening. Finally you understand the secret and you can't wait to share it with your boss and the rest of the team. You feverishly build a report and send it over, sure in the knowledge that this will change everything…
And nothing happens.
What went wrong?  
How could they not understand?
You hang your head and wonder if all of this work on data is worth it.
Make your message look the part
Things aren't always as dramatic as that, but perhaps the problem is your message got lost in all the other things going on. People didn't see the importance or the relevance of what you are saying.
So how can you ensure your insight isn't lost in the noise of the day to day? Using Orbit dashboards you can create a clean and interactive way of telling a story with your data. And with the ability to add custom themes and logos you can ensure that your message is tailored to your audience and looks authoritative and powerful.
For example, I recently prepared a dataset containing information about medical prescriptions across the UK's National Health Service (NHS). I then built an Orbit dashboard showing information on the number and cost of prescriptions across various types of medicine. The dashboard allows a user to drill down into the different medicine categories and sub-categories and examine prescribing costs and trends over time.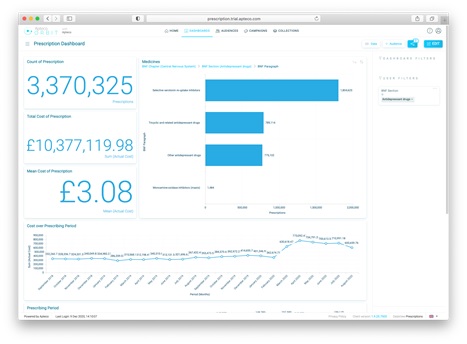 This provides a very quick way of interrogating the large amount of prescribing data available – which is great for busy colleagues. But it looks a little generic.
To give the data the authority it deserves we can add official NHS branding to the dashboard. The NHS make their brand identity guidelines available online and we can create a new Orbit theme using these settings.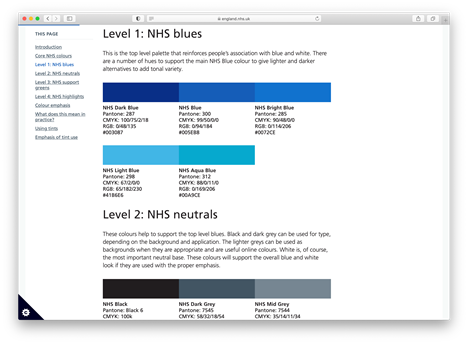 The Hex colour codes simply need copying into the appropriate place in the theme editor.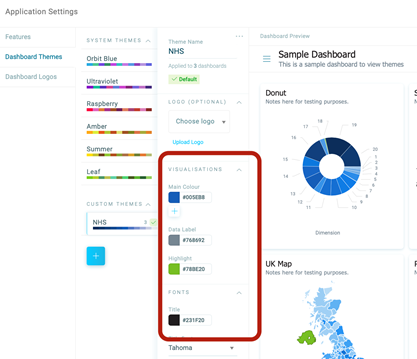 The resulting dashboard is not dramatically different to the original, but by using the brand identity those of us in the UK are all very familiar with the impact is much greater. The information will be more readily understood and digested by our target audience as it has been made much clearer as to what it is about. This hopefully captures their attention making them more likely to engage with the content.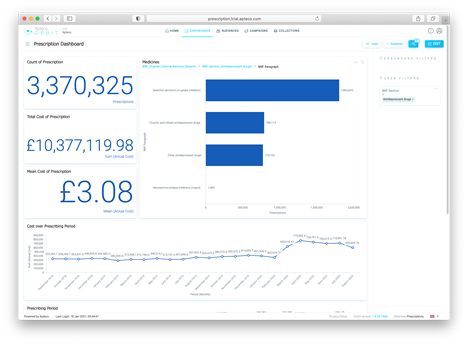 A picture is worth a thousand words
As well as using brand colours the next obvious step is to add a logo. Again, the NHS logo is one we all know very well having been in use for around 30 years. We can add this to the theme settings and ensure it is enabled for our dashboard. This adds the final touch.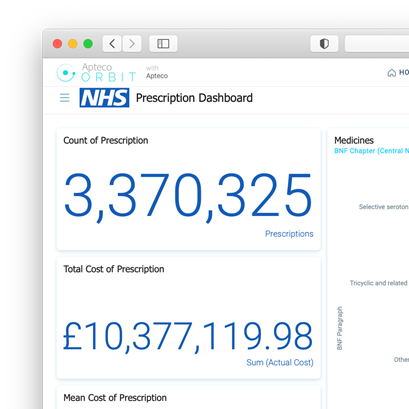 Clear and obvious
Displaying your dashboard with the appropriate identity can become even more important when your business has multiple brands and the reader of a dashboard needs to quickly distinguish what is being talked about. As an example, a leading pharmaceutical group in the UK includes two brands, a community pharmacy network with green branding and a pharmaceutical wholesaler with red branding. Reporting is done to the parent group through dashboards and by colouring these dashboards correctly the audience knows at a glance which brand the data refers to.
The Web usability expert Steve Krug says in his book Don't Make Me Think! that:
When I look at a web page it should be self-evident. Obvious. Self-explanatory. 
When it comes to understanding what data a dashboard is showing the same should apply.
For some people this might seem a trivial exercise, as we haven't changed the information we're showing at all. However we must go the extra mile to ensure that the dashboards we build are relevant, familiar and easy to consume by our audience. Branding and theming is a good way to support this. Sometimes it's the simple things that help to highlight the important, and more complex information.
To learn more about how to communicate successfully with your team members and customers download our eGuide.