The bumpy road from multi-channel to omni-channel
As we move into 2017, how are Apteco partners and FastStats® clients classifying their communications approach?
At our 10th annual FastStats® User Group conference, which took place at the end of 2016, we once again carried out a quick fire survey to learn more about the latest data driven marketing trends.
In total, 347 Apteco partners and their FastStats® clients were provided with voting handsets so that they could immediately respond to a range of quick-fire questions about their current and future marketing plans. One of the most interesting questions was about communication strategy and how the respondents viewed their current approach.
Omni-channel or multi-channel
When asked, how would you classify your communication strategy?, just 11% of respondents classify their communication strategy as "omni-channel", meaning, reaching all touch points all of the time. The vast majority (86%) view their current communications as "multi-channel" and this includes using multiple channels across separate campaigns (46.5%) or using multiple channels within the same campaign (39.3%). Only 3% of all respondents use a single channel only.
True omni-channel campaigns require all areas of an organisation to align customer touch-points in a consistent manner. As the results of our survey shows, there is clearly a long way to go before organisations are able to navigate the complexities of creating such campaigns. Though, many organisations are still on the path to achieving true omni-channel marketing, most are still communicating via single channels in separate campaigns or multiple channels in separate campaigns. Offering a consistent 'anywhere, anytime' brand experience remains elusive for many marketers, but it is essential that brands master this in the coming years.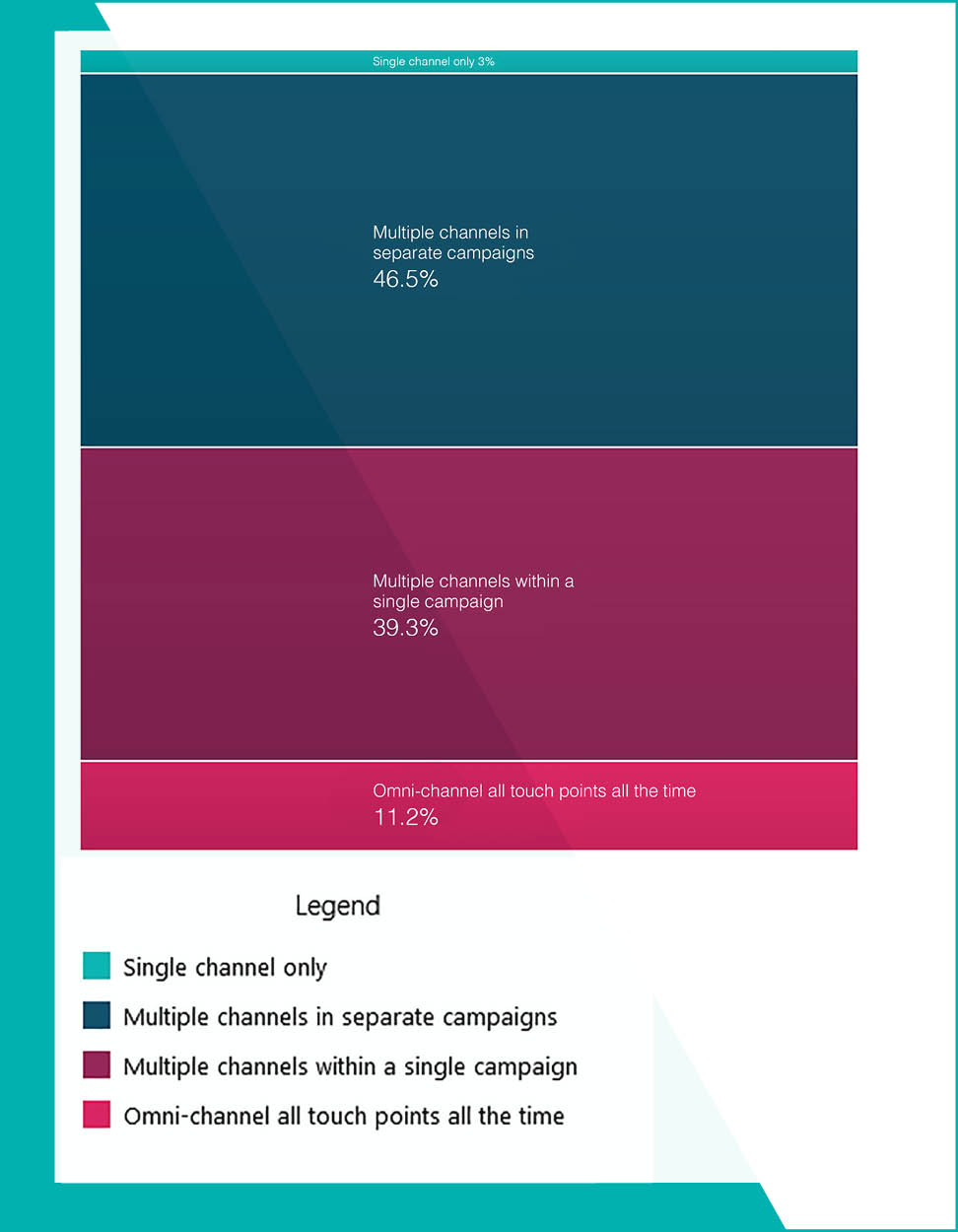 Omni-channel in 2017
Interestingly, when asked about the most important trends for their organisations in 2017, omni-channel came third place; behind the customer journey in first place and data protection compliance in 3rd. Retail organisations however predict that the customer journey and omni-channel will be most important to them, whilst for the charity sector the top two issues are data protection and the customer journey.
The inclination seems to be towards multi-channel marketing with omni-channel as a longer term future aim, rather than something organisations can tackle and implement overnight. The reality of implementing multiple channels, even within a single campaign can be complex to achieve and so many organisations are still working with separate campaigns for each channel. Omni-channel is still very much an aspiration but the journey there is perhaps longer and more challenging than expected.
With the growth in marketing automation implementations also showing little growth yet remaining high on the agenda, it seems that the practical data challenges and organisational barriers are slowing things down.
However it isn't all doom and gloom, with 11% of respondents who did classify their communication strategy as "omni-channel" it clearly is possible to achieve. I look forward to seeing the response to this question at our next conference, as something tells me that our audience won't be giving up on the aim of omni-channel any time soon.
Discover more about omni-channel, and other data-driven marketing trends in 2017, in our new trend report; The Omni-Channel Data Trend Report 2017.