Time Travel in Discoverer
Customer behaviour isn't static and segmentation analysis enables deeper insight into customer buying patterns over time. Here is how you can better understand customer segments and leverage that insight in your future marketing activities to increase retention and sales.
A common analysis theme that emerges from our Best use of FastStats Award is how our customers use Discoverer to segment their customers for both outbound marketing and insight into their behaviour.
Knowing about your customers and their behaviour now is vitally important. However, this knowledge isn't static. Those customers and their buying patterns are constantly changing. If you are able to understand how they are changing then you can leverage that insight in your future marketing activities.
There are two fundamental questions:
How can I track the number of people in each segment over time?

How can I find out how people are moving between the different segments?
An example segmentation could be based on Frequency and Value of transactions in the last 12 months. We could produce a 4 way split of High/Low Frequency/Value and work out what the characteristics of these people are.
In the image below we are looking back at the volumes of people in each segment over the last 5 years, at a monthly level. The chart highlights the good and the not-so-good times for our business. These changes could be because of things we (or our competitors) have done (e.g. launch a new product, run a successful marketing campaign, offer product discounts), changes in market conditions (e.g. market growth, legislation changes) or external events (e.g. unusual weather or seasonal buying behaviour).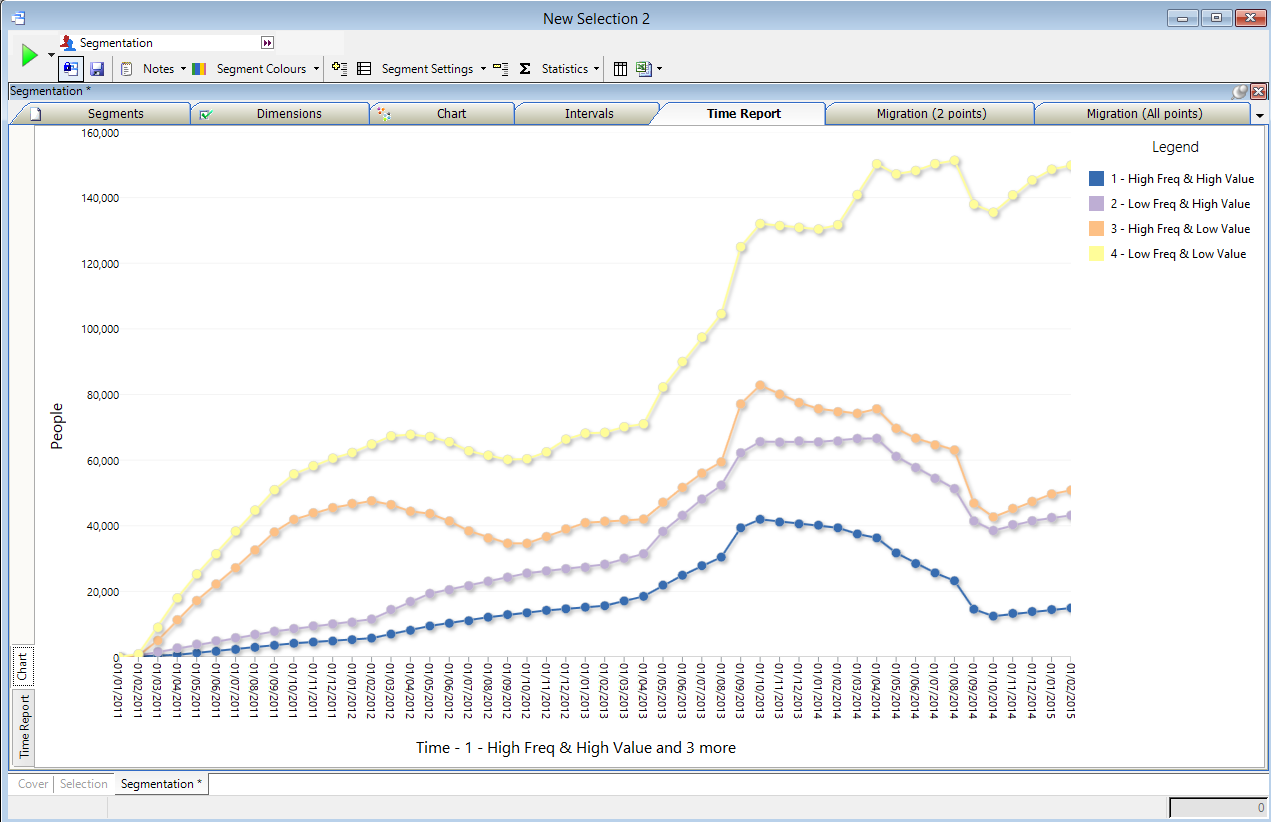 This is a new level of insight. Knowing what worked in the past can influence future business strategies and marketing activities.
The changes in the above chart happen because customers are moving between segments over time. Knowing how they are moving can help us understand whether we need to focus on customer acquisition, retention or upselling.
The image below shows the movement of people in 2014. This was a bad year for our example business as our top 3 segments have all shed customers. The table shows that we lost the vast majority of customers from these segments which overshadowed the reasonable number acquired. This business needs to focus its marketing on retaining those customers.

To create this analysis in Discoverer we have had to define what each segment means today in terms of customer transactional behaviour and to specify the dates on which we want the analysis to be performed.
Additionally you can:
Identify customers who are about to leave a segment if they don't transact again soon – These are clearly good targets for retention marketing

Identify a particular group of people (e.g. who were sent a particular campaign) and track their transactional behaviour in the following period of time
The Segmentation tool is now available within FastStats Discoverer to give you a new way of understanding the changes in segmentation in the past and utilising that to improve your marketing in the future.
Takeaways:
Understanding your data means understanding your customers.

Through data segmentation marketing can be tailored to that customers current position.

Remember your customers are not static and nor should your knowledge be.
In addition to extracting numeric data the collection, and more importantly, analysis of textual data can also be of massive benefit to your business, download our free eGuide: 'Words Worth: Extracting Meaning and Sentiment from Textual Data' and discover more.