Why Me? Why do I keep getting those blasted emails?
The latest update in Discoverer enables marketers to justify why certain people were targeted for a campaign, this update enables them to input complex selection criteria with ease and justify their targets.
Over the past year it has become more important to justify the inclusion of a particular record in a marketing campaign. The charity sector in particular has been in the news for the targeting of particular groups of people. Marketers often need to explain the reasons for a particular record being selected, and this can involve some fairly arduous logical wrangling with complicated selections. This auditing process is sometimes initiated by recipient complaints, sometimes by quality control within the business, and sometimes by the software user trying to ascertain the correctness of their logical thinking.
As a response to this requirement we have developed new functionality in Discoverer which allows a user to explore the inclusion status of a record by returning a match for every line within the selection.
Here's a basic example: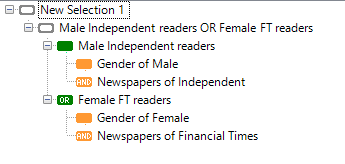 A person can only match one part of this selection (since they can't be both a male and a female), and a handful of those matching records can be seen below:

Now, in this particular instance it isn't too difficult for us to use the data grid to justify why each of these three people have been picked and which one of the two 'OR' clauses they matched.
This new development allows the user to select records and show a view that colours each line of the selection according to whether it matches that particular line or not. In the example below we can see that the record was clearly from a Female Financial Times reader.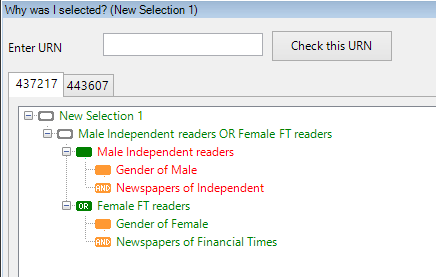 However, with more involved selections with many different logical elements and variables from many different tables this process becomes cognitively difficult and time consuming. As an example one of our clients spends considerable time after the event having to justify to the business why particular people were targeted. This development would make that process much easier.
Limitations
There are some limitations to this functionality that affect its use in all circumstances.
First, there are many selections which could have different results each time we run them. For instance, selections with random elements, or selections that pick any one person per email address.
Secondly, there are reasons why the inclusion status of a record may change if this functionality is invoked at a later date:
Your selection targets people who had registered in the last week. If you look at the selection some time later then the person wouldn't match.
Your selection targets people who have had less than 3 transactions. If you return to the selection after they have made another transaction they wouldn't match.
The data in the system is updated and the value of one of the selection attributes for that record has changed. For instance you may have excluded people with a TPS notification, but they have subscribed to this between making the selection and being asked why they matched.
What other techniques can you use to verify a selection?
This development has added a new technique for verifying selection correctness, but it is useful to review some other techniques that are available to you.
Fields from selection – this button  on a datagrid will add to your datagrid all the elements that are in your selection and resolve the data grid to the most sensible table for viewing the data. This shortcut can save time when sense-checking complicated selections with lots of different variables in a system with a large number of variables.
Drag out part of a selection to understand it – for instance you may inherit a selection and be unsure what it is doing. One way of getting to grips with it is to drag out smaller parts of the selection to create a new one and using a data grid to understand that part of the tree.
Rename the aspects that you understand – once you have understood what a particular part of a selection does then you can rename it and then the selection tree will use that name further up the tree.
Conclusions
It is vital that the selections that marketing analysts base their campaigns and business decisions on are correct and can be justified. This new feature adds a more sophisticated way of satisfying that requirement.
This update simplifies the understanding of more involved selections.
Using this update marketers can justify their selection criteria with ease.
Marketers working with this update in Discoverer are able to ensure their selection criteria is correct with ease.
Discover what 2016 and beyond holds for data driven marketing, download Trend Report 2016 Data driven marketing now.