Apteco Live Online 2020
25 Nov 2020 | 09:30 GMT - 26 Nov 2020 | 12:30 GMT

Apteco's annual conference is going virtual this year. Join the Apteco team on 25 - 26 November for Apteco Live Online.
#AptecoLive
Join us online for Apteco's 2020 user group conference. Spread over two half days this year to avoid webcasting overload, you'll be able to experience our annual get-together in a rather different format to our usual quirky London venues. We're determined to keep in touch with our partners and users this year, even though we can't meet in person. We therefore have a jam packed virtual agenda planned incorporating all your favourite sessions, including product updates, great guest speakers, real life case studies and focus groups where you get to deep dive into elements of our software. And there will most certainly be some fun along the way.
---
The essentials
When: 09:30 - 12:30 GMT Wednesday 25 and Thursday 26 November 2020 
Where: Online event platform - you will need the email address you used to register for the event and the platform password. The password will be emailed to everyone who has pre-registered just before the event.
Email events@apteco.com if you haven't received it.
Wear: Whatever you wish - there is no dress code this year
Tweet: #AptecoLive @Apteco
All the details and updates about the conference will be posted on this page over the coming weeks.
---
Agenda
DAY 1 - WEDNESDAY 25 NOVEMBER
9.30 Welcome
9.45 Development update
10.30 Break
10.40 Keynote - Dr Hannah Fry
11.30 Focus groups (choose 1 out of 6 options - see below)
12.20 Winner announcements
12.30 End
DAY 2 - THURSDAY 26 NOVEMBER
9.30 Welcome
9.45 Customer story of the year
10.10 Impact of Covid-19 on marketing - panel session
10.35 Break
10.45 Quick-fire poll
11.00 Focus groups (choose 1 out of 6 options - see below)
11.55 Guest speaker - Geoff Ramm
12:20 Winner announcements
12.30 End
---
Our 2020 keynote speaker, Dr Hannah Fry, Mathematician, science presenter and all round data badass

What data can and can't tell us about ourselves
The modern era of data analytics is, in some sense, an attempt to automate our decision making - to iron out some of the failings and biases built in to our choices. But decisions driven by data can have blind spots too. In her keynote, Hannah wants to explore a few of them: She'll question whether we're thinking enough about the data we can't see, as well as what we can, she'll show you how humans so easily fall into the trap of taking the output of their algorithms at face value, and will share some stories about what can go wrong when you design your Ai to shield its users from uncertainty. The goal here is to recognise our own failings, and ask our machines to accommodate them, rather than the other way around. Because, while there is no doubt that data can answer some of our biggest questions, the most powerful applications of Ai are those that also recognise its very real limitations.
You can find Hannah on twitter: @fryrsquared
www.hannahfry.co.uk
---
Geoff Ramm - our 2020 guest speaker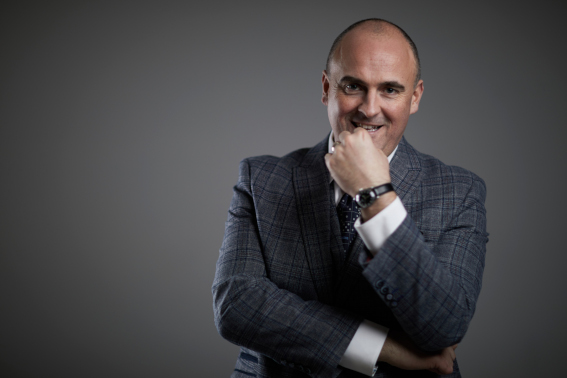 Creator and author of Celebrity Service and OMG Marketing
Geoff Ramm is the creator and author of Celebrity Service. He's challenged and inspired audiences across 43 countries to create award-winning ideas to outperform the competition. His clients include, Emirates, Warner Brothers & McDonalds. 7 years ago he introduced Apteco's conference delegates to OMG Marketing onboard the Silver Sturgeon and now he is back to inspire us once again, but this time in creating a customer experience like no other… FORBES called this….  'A Game Changer'.
You can find Geoff on twitter @GeoffRamm
---
Focus groups
We will be running the following focus group sessions on both days of the conference so that delegates can attend two out of the six options. There is no need to pre-book this year, you simply choose your preferred session from within the online event platform when it is time for the focus groups to start. 
____
Multi social campaigning in PeopleStage
This focus group takes you through the enhancements made to our social media integration capability in PeopleStage™, introducing you to our usability improvements as well as our new functionality to send different direct posts to multiple social platforms in one campaign.
With Liz Walker, Consultant and Matt Such, Support Consultant, Apteco
____
Aggregation in groups
Join Chris in this session to get a brief review of existing aggregation techniques available in the Apteco Marketing Suite™. Chris will go on to outline other potential methods and use-cases. This analytical session will introduce Apteco's Category Grouping aggregation technique, and show its use in many different scenarios.
With Chris Roe, Developer, Apteco
____
Orbit dashboards – from soup to nuts
Orbit dashboards provide a powerful way to communicate insight from the Apteco Marketing Suite™ to your stakeholders. In this talk, Adam will show how data from a FastStats® system can be built into an interactive dashboard and shared to other users around the business. All the latest features of Orbit dashboards will be highlighted and you will see how results can then be acted upon through data exports and via automated campaigns.
With Adam Robertson, Senior Developer, Apteco
____
Real-time in ecommerce – a live use case
Starting from a web shop, this use case will show how web hooks with Live Data and transactional emails offer companies a possibility to react in real-time, with the intelligence from Apteco to deliver smart and meaningful communications across multiple channels like email, wallets and SMS.
With Florian von Bracht, Senior Pre-Sales Consultant and Martin Clark, Managing Director, Apteco GmbH
____
Event driven behavioural modelling
FastStats® can now help you understand a customer's behaviour leading up to a point in time when an event occurred for an individual – for example, when they received a communication and responded. Using the Modelling Environment you can launch a Profile tool to target customers exhibiting similar behaviour now. This session will demonstrate this new Q4 functionality, along with a summary of this year's Behavioural Modelling developments. There will be a chance to discuss and become involved in future developments in this area.
With Ray Kirk, Consultant Developer, Apteco
____
Build speed optimisation case study
A worked example on how to analyse and improve the build speed of a real world FastStats® system. This session will take you through a case study of what we do when asked to improve the build speed of a system. The case study will include collecting the required log files and design, optimising all parts of the build process including machine performance, extract speed, relationship choices, configuration settings, virtual variables and options to improve the deployment.
With Tim Heron, Senior Developer, Apteco
____
---
Invitations
Email invitations have been sent to Apteco approved partners so that they can invite their clients. Due to a high demand for attendance at the event places will be limited and must be booked in advance. If you are an Apteco Marketing Suite user, please contact your Apteco approved partner if you would like to attend.
---
How to book - CLOSED
We are using the Eventbrite online booking platform to manage registrations using company booking codes. Please do not use codes for delegates at other organisations. Our partners can register places and manage bookings on behalf of their colleagues / clients, or alternatively they can forward the details to allow delegates to register and manage their own bookings. The Eventbrite event password and booking codes have been emailed to partners.
Places must be registered via Eventbrite and will be allocated equitably for all partners and clients. There is a limit of five places for each client organisation wanting to attend. All delegates must have a valid Apteco software licence when the conference takes place. We will maintain a waiting list if we have excess demand for the event. 
---
Delegate packs - shipping address
Delegate packs will be posted shortly before the event so please register early (ideally by Friday 6 November, although we'll keep posting them right up to the event!) to avoid disappointment. If you would like a delegate pack then please enter the shipping address you would like it posting to during registration. As many delegates are likely to be working from home and will want the pack sending to a home address, please be assured that Apteco protect company and personal information to the same high standard. We will use the shipping address supplied during registration only for the fulfilment of your delegate pack and any post event gifts or prizes in relation to this event. This information will not be retained by Apteco or entered into our CRM system. You can view our privacy policy here.
---
Apteco would like to thank all our delegates in advance for joining us at this year's online user conference! Let's keep close, but stay safe.
Email events@apteco.com if you have any queries.