Office locations
Feel free to contact your local Apteco office with any questions or queries. All offices are open from 9am to 6pm local time.
Apteco Limited, UK head office
Main address
Tink-a-Tank House 21 Jury Street
Warwick CV34 4EH UK
Registered in England No. 3982815
General enquiries
Tel: +44 (0)1926 407 565 (General)
Fax: +44 (0)1926 407 545 
E-mail: info@apteco.com (General)
Support desk
Tel: +44 (0)1926 407 595 (Support Desk)
E-mail: support@apteco.com (Support Desk)
How to find our UK head office in Warwick
Apteco is based at 21 Jury Street which is part of the main road through the centre of historic Warwick. You can find us at Tink-a-Tank House which is a large cream coloured building with two large pillars at the entrance. We are close to Warwick Castle and adjacent to the Lord Leycester Hotel.
By Car
Private parking is available at the rear of the office. If you are using a Sat Nav to reach our car park then please use the postcode CV34 4ST. This postcode is located on the correct street to access the car park at the rear of the building. The Apteco Car Park can be accessed via a small private road off The Butts. If approaching uphill from the traffic lights take the first turn left into a small private road with a black pedestrian sign for St Mary's Church (avoid turning into a private driveway immediately before this turn). If approaching downhill turn right straight after the Pay & Display parking. Our car park is straight in front. Please ring the bell and we will open the gate for you.
Download our car park & railway station map for directions.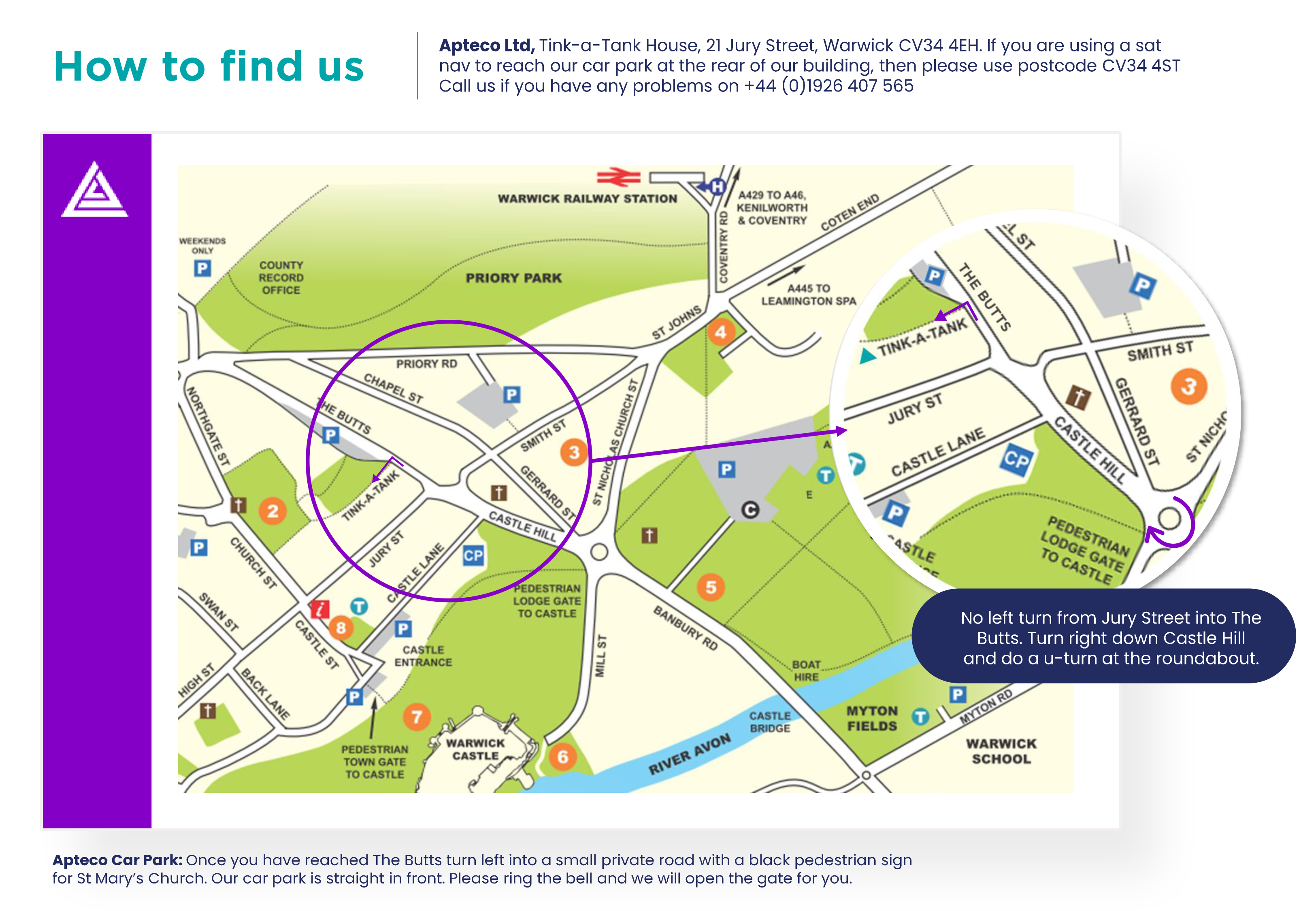 In the event that we run out of spaces then Pay and Display parking tickets cover the surrounding roads and it is usually possible to find a space nearby. Alternatively, the Linen Street multi-storey car park is only a five minute walk away (use postcode CV34 4DS for Sat Nav).
By Train
Use Chiltern Railways from London Marylebone (90 minutes) or Birmingham Snow Hill / Birmingham Moor Street (30 minutes). Warwick Station (not Warwick Parkway) is about 10 minutes walk from the office and is shown on the map above. The nearby Leamington Spa station is also served by CrossCountry trains and is only a ten minute taxi ride away.
By Air
Birmingham Airport is only a 30 minute car journey away using the M42 and M40 motorways.
Apteco GmbH
Schaumainkai 87, 60596 Frankfurt am Main Germany
General enquiries
Tel: +49 (0) 69 25 66 97 0 - 0
Fax: +49 (0) 69 25 66 97 0 - 111
Support: +49 (0) 69 25 66 97 0 - 112 
E-mail: info@apteco.de
Apteco Australia Pty Ltd
Level 2, 99 Macquarie Street, Sydney, NSW 2000 Australia
General enquiries
Tel: +61 (0) 2 8355 2524
E-mail: info@apteco.com.au 
Apteco Benelux BV
Stationsplein 45, Unit 4.004 3013 AK Rotterdam The Netherlands
General enquiries
Tel: +31 (0) 10 80 80 875
E-mail: info@apteco.nl 
KvK 70152306