2013 FastStats® award finalists announced
Posted: 05 Nov 2013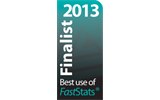 Apteco is proud to present the five "Best use of FastStats® 2013" award finalists. This award is to celebrate the effective use of FastStats® to drive marketing activities and to reward those who have delivered measurable benefits to their organisation as a result.
The 2013 finalists are:
The Caravan Club & Celerity Information Services
P&O Ferries & R-cubed
Scotts & Co
Lands' End UK & R-cubed
RNLI & Qbase
The Apteco judges have scored each submission based on how well the following criteria were demonstrated:
Effective and skilful use of the FastStats® software suite
Creative application of the software to meet business and marketing objectives
Details of how an innovative marketing strategy was conceived or developed utilising FastStats®
Measurable improvements to the customer experience, campaign performance or marketing processes
Contribution to commercial success and return on marketing expenditure
Delegates at the FastStats® User Group Conference on Friday 15th November will be given the opportunity to vote for their favourite entry following presentations from each of the finalists. The winner will be announced at the end of the day.
Apteco would like to wish all of this year's finalists the best of luck!