Apteco launches Pareto analytical decision making tool
Posted: 08 Sep 2020
Apteco is excited to announce the launch of new Pareto analytical tool in the Orbit online platform
Apteco's new Pareto analytical tool is based on the Pareto principle of 80/20. The first stage of Apteco's Pareto capability, Category analysis, was introduced in the latest Obit update and enables users to see, explore and action the ratio between categories and value. Meaning that users can now utilise the Pareto tool to uncover which are the top product categories that contribute to 80% of your sales.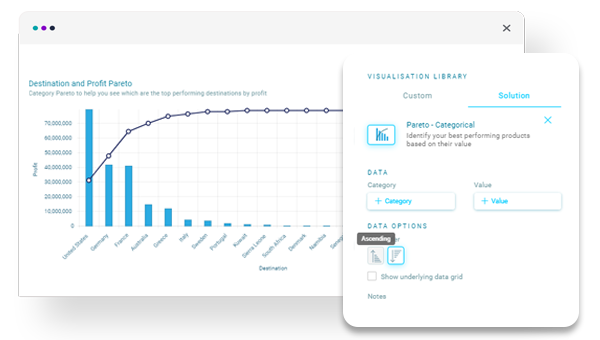 First step: Category analysis
The Pareto category analysis tool allows users to focus on mainly transactional data to identify, for example top selling product categories or most popular booking destinations. By defining a category variable and a numeric variable, the resultant Pareto chart will sort descending by category based on the numeric value defined. A line chart will then display a cumulative percentage total based on the numeric value so that users can quickly select those categories which bring the most success. These can then be added to a user filter or to create an Audience.
Further development planned
Category analysis in the first stage of Pareto analysis and Apteco has plans to introduce a second type of Pareto analysis enabling users to explore value bands – for example the decile bands of individual customers by their total contribution to revenue. This will allow users to find who the top 20% of their spenders are. 
Each type of Pareto analysis tool is set-up as a tile and can be added to Orbit dashboards and shared with colleagues. The Pareto chart contains a column chart and a line graph. The column chart shows values in descending order to identify the best sellers or the best buyers. The line graph shows the cumulative percentage, or rolling total as a percentage to enable users to easily identify percentage thresholds.
Learn more about our new Pareto tool
Prerequisites for the Pareto tool: To use the Pareto analytics tool on the Orbit platform, your FastStats system must be running the Q2-2020 release or later.