How to maximise profit from top spending customers
Learn how to maximise the amount your top customers are spending.
Clear and timely client communications are vital to any business, and if you can combine them with making your big spenders feel special, then you're on to a winner. If you can gain the customer insights that enable you to identify your top spending customers then you can nurture them accordingly and encourage them to remain loyal. Part of this nurturing involves ensuring that customers who already spend significant amounts with you are aware of your other products and services. In order to achieve this you also need the customer analytics that enable you to target them based on interests and previous purchase history.
Given the importance of identifying your top spending customers, it is no great surprise that the Apteco support team  often get asked if it is possible to rank customers based on their total order value. Gaining these types of customer insights, for example, producing a ranking value of 1 for the customer with the highest total spend, 2 for the second highest, and so on, is possible within FastStats and in the following blog we show you just how it can be done
Ranking records in FastStats by a Numeric Variable
It is possible to rank your customer records in FastStats Discoverer by making use of the Numeric Banding wizard. To illustrate this, let's use our fictitious holiday company. For the purposes of this illustration I have created a "Total Spend per Person" variable which is derived from an RFV (Recency, Frequency, Value) aggregation, totalling the booking "Cost" variable for each customer.
Create a selection of all the people in your database
The first thing you need to do is create a Selector variable which has all of the Person records flagged under a single category. This can be done with the Create and Update wizard, creating a Selector variable with one category and using a Person universe selection to populate this category.
In the example below, this variable is named 'Everyone', has a Code of '1' with a description of 'Everyone'

Produce the ranking using the Numeric Banding wizard
Click the Numeric Banding wizard in the list of Wizards and drop on the numeric value variable you wish to rank i.e. Total Spend per Person. On Step 2 choose the option labelled Ranked.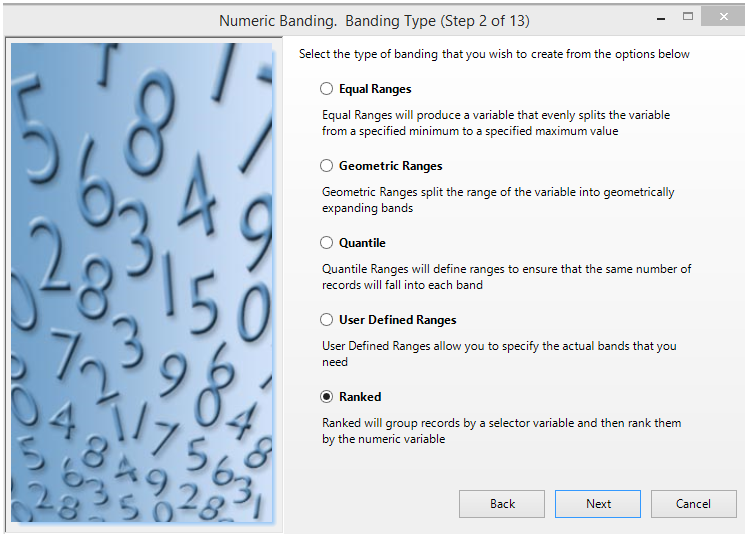 NB: the Ranked option ranks every record in a particular category by the numeric variable specified in step 2. By allocating everyone to a single category in our "Everyone" variable we are then ranking the entire database.
Next drop on the "Everyone" variable which was created earlier and specify a Sequence of Descending:-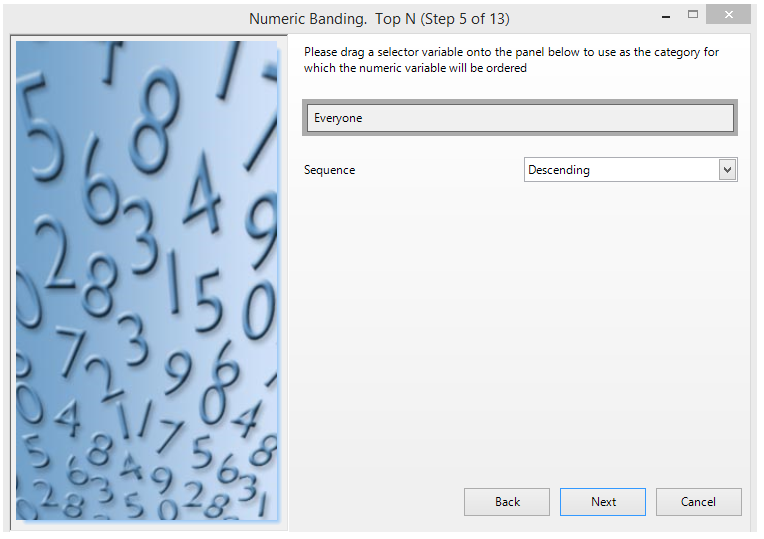 Proceed through the wizard to create the virtual variable. The following Data Grid shows the Total Spend per Person and Ranking by Total Spend per Person for the top 20 rankings:-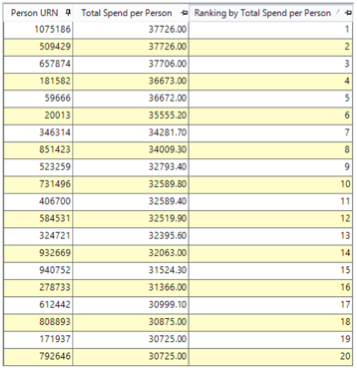 This example illustrates how customers can be ranked by total spend, however there are many variations on this that will offer more targeting possibilities. You could limit the analysis to total spend over a given time period or total spend on particular products, or product groups, for example.
However, a note of caution - don't just go after your big spenders for their money, as they will soon start to notice that the relationship is a one way street! It might be that they are all spent out and don't want to spend more with you, so no matter how much you encourage them they won't increase their spending. This is a valuable target group that you don't want to put off with over communication, so perhaps retention is the key. In fact, maybe it should be the lower ranking customers that you should be targeting with more communications to try and move them up the spending ladder.