What is Customer Profiling? How to Find the Best Prospects | Apteco
02 Jul 2021
|
by Ray Kirk
Customer profiling can help you find your best prospects - find out how.
Understanding the characteristics or profile, of your current customers and your strengths and weaknesses across market sectors is a prerequisite for any data-driven marketing activity.
Regardless of whether the goal is to expand to new sectors or up-sell in existing sectors it is necessary to consider your current sector performance and the remaining market potential before embarking on list acquisition and expensive marketing activities.
What is a customer profile?
A customer profile is generally understood as the description of a segment of an organisation's customers who are characterised by certain common characteristics. These characteristics can be geographical, socio-demographic, or behavioural in nature. In other words, this means that aspects such as place of residence, age, gender and the buying behaviour of customers are looked at more closely. The basis for customer profiles is provided by data collected during a company's interaction with its customers.
When creating customer profiles, it usually becomes apparent that the totality of a businesses' customers cannot be covered by one profile. Instead, several profiles are required to adequately represent an organisation's existing customer base. In summary, customer profiling is a technique that helps you to better understand your audience by improving your knowledge of their characteristics, needs and behaviours. 
Customer profiles vs. buyer personas
Often, customer profiles are mentioned along with buyer personas. However, it is important to know that customer profiling and the creation of buyer personas are two different approaches. A customer profile describes a certain customer segment of an organisation. A buyer persona in contrast, is a fictitious person who embodies the characteristics of a customer and serves as a detailed representation of a certain customer segment or target audience. A buyer persona can be derived from a customer profile.  
What is an ideal customer profile?
An ideal customer profile (ICP) defines the buyer profile that matches best to an organisation's offering. This approach is commonly used in B2C and B2B marketing. In B2B marketing, ICPs are used to identify specific businesses and job roles to target. This is especially useful when an organisation follows an account-based marketing strategy. Knowing the ideal customer profile helps the sales team to prioritise its lead follow-up. In addition, an ICP can help to align products and services capabilities better with customers' needs and to inform the future roadmap. To create an ideal customer profile in a B2B context, several characteristics, so-called firmographics, should be considered. These include for example: 
-    The industry the organisation operates in 
-    The company size by number of employees
-    The organisation's revenue
-    Geographic location 
-    The legal form of the organisation 
… and many more. 
Customer profiling methods
Customer profiling can follow different approaches, depending on what the focus of the analysis is and what customer data is available. Commence distinguishes between three different customer profiling methods: 
1.    Psychographic: This method focuses on the customers' lifestyles to create customer segments. Characteristics that are considered might include activities, values, interests, and social background. 
 
2.    Consumer typology: Using this method, customers are segmented based on their motivations, mindsets and how they can be engaged. There are four types of consumers to distinguish: loyal consumers, discount consumers, impulse consumers and need-based consumers.
   
3.    Consumer characteristics: This method is about the traits that influence a consumer's buying decisions. According to Commence, there are three different types. For convenience-driven consumers, using a product or service needs to be easy and fast. For connectivity-driven consumers, it is very important what others say about a product. For personalisation-driven consumers, a highly personalised customer experience is what influences them most in a buying decision.  
This is one way to differentiate customer profiling methods. Other approaches include for example profiling by clusters or affinities. 
Customer profiling and segmentation tools
Customer profiling is one of numerous ways to segment your audience and split your existing customer pool into more specific groups. In addition to profiling, a wide variety of additional segmentation tools and methods is available to marketers – all aiming at providing a more personalised communication and customer experience. In addition to profiling, the so-called RFM analysis is a well-known method for customer segmentation. Considering the aspects of Recency (when was the last purchase), Frequency (how often did someone purchase) and Monetary (for which value was purchased), it is a great way to identify top-customers or segments that are at risk of lapsing. 
The importance of customer profiling
Organisations can benefit in numerous ways from creating customer profiles. 
Understand customer behaviour and needs: 
How often, how much, when, which products, which channel – a lot of information about the individual needs of your customers can be drawn from their buying behaviour. These are important insights to inform your marketing strategy and communications. 
Personalisation and customer retention: 
This aspect is directly linked to the previous one: improved customer understanding means that you can address the different customer segments in a more personalised way - e.g. at a very specific time, with a precisely matching offer or even via their preferred channel - preferably all at the same time. The possibilities for personalisation are vast. Through personalisation, you can decisively improve the relevance of your communication for the customer and thus, increase customer satisfaction and retention.  
Identification of new market potential: 
Customer profiles also allow you to compare your current customer base with the overall potential of your market and thus, identify those areas where you are underrepresented to target new potentials or to identify up-sell and cross-sell potentials within your existing customer base. How such an analysis can be conducted we will demonstrate in the following sections. 
How do you find the best prospects?
In this application of profiling your current customer base is compared against your prospect marketing database, or a data "universe" provided by a supplier of business or consumer information.
A profile report highlights market sectors in which your business is over, or underperforming in relation to the business or consumer population. This information can be used directly to guide marketing strategy and, in particular, prospect list selection.
Until recently profile reports have required bespoke consultancy and hours of processing. It is now possible to produce profiles on millions of records in just a few seconds. Most importantly this opportunity is accessible to marketers without a background in statistics. Customer profiling is not limited to detecting simple customer characteristics. But rather, it enables any segment of the data to be analysed against any background. For example, the customers for a particular product can be analysed against the applicable industry sector or the set of prospects that have been offered the product.
How to create a customer profile in three steps – a practical guide
Using our software solution for data analysis - Apteco FastStats, we will demonstrate how meaningful customer profiles can be created in three steps. 
1. Identify your target customers as the analysis selection.
These are the particular customers or businesses whose distinguishing characteristics you are interested in identifying, and the backdrop population that you are profiling against. This is known as the Base Selection and could potentially be the whole database.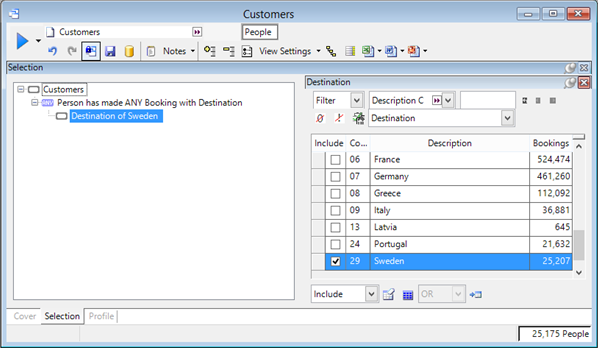 2. Chose the variables to profile.
These are the customer characteristics that you wish to explore and which will enable you to identify your target customers.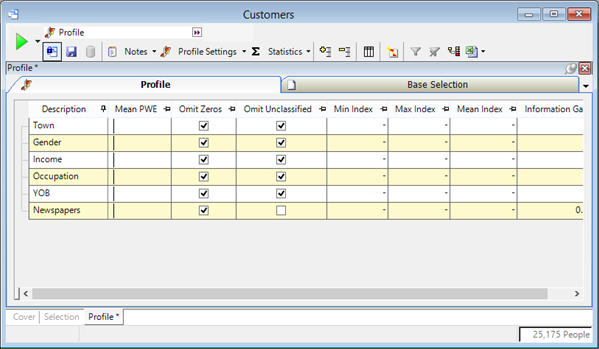 3. Build the profile and interpret the profile report.
This profile report (created using FastStats Modelling functionality) has a collapsible section for each included variable with a row for each category. For each category we can read the number and percentage of people out of the Analysis Selection (the "customers") and the Base Selection (the "universe").
The remaining columns show the market penetration: an index of over 100 shows overrepresentation in the category; under 100 shows underrepresentation and the z-score indicates the statistical significance.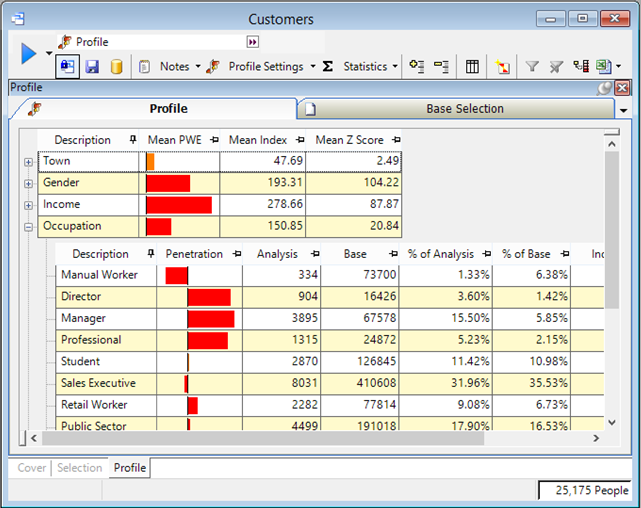 Market Penetration
The Index determines the size and direction of the Penetration graphic and the z-score; the colour from yellow (low significance) to red (high significance).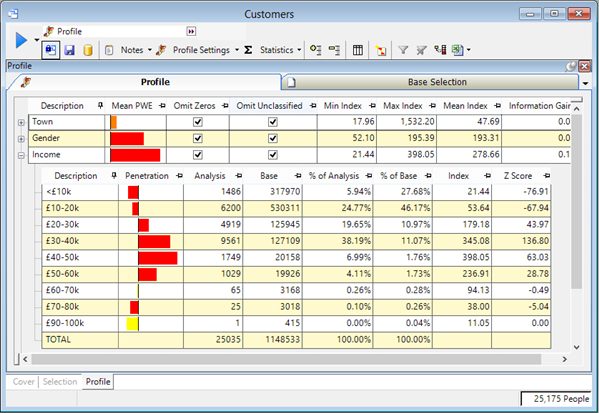 In this example you can see that your customers are overrepresented in the 30-40k and 40-50k income brackets but under-represented in higher income bands relative to the base population. 
The information given by a profile report may confirm or add to your knowledge of your market sector – often both!
By studying the market sectors in which you are under and overrepresented you can develop marketing strategies to either concentrate in your key markets and/or improve the weak areas.
Market Potential
It may be the case that market sectors in which you are overrepresented offer little further scope for opportunity. This would be the case if the market is oversaturated, or is a small niche market. The Market Potential graphic helps identify the market sectors offering the largest opportunities.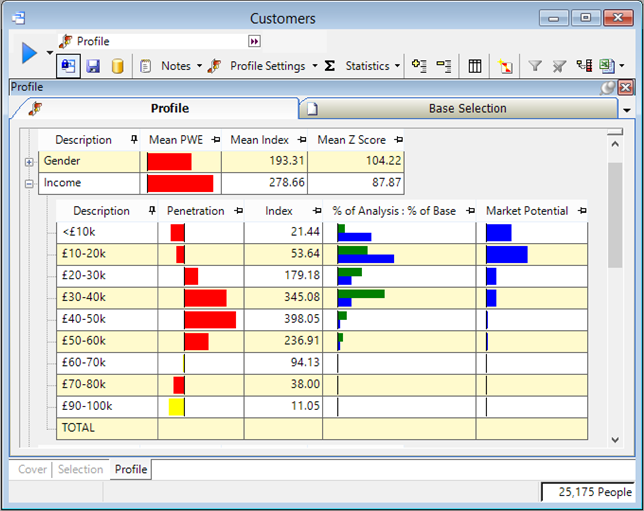 Specifying Business Questions
Remember that the Analysis Selection specifies the target segment to be profiled and the Base Selection defines the underlying base population. The Analysis and Base Selections can be set to any selection of records to give you the flexibility to investigate real business questions.
Often the Base Selection for your profile will be a reduced subset of the universe database. The Base Selection might be defined to cover the potential market sector e.g. your product or offer is only applicable to limited companies, consumers with a driving licence, current account holders etc.
Similarly, the Analysis Selection may be people who contacted the call centre, customers who have made a second purchase, customers who have not upgraded and so on. In many cases the Analysis Selection will be defined by a set of unique reference numbers (e.g. account numbers) from operational systems.
How Apteco can help you target the ideal customer
Now that you know the concept of customer profiling and are able to build an accurate profile of your customers your marketing activities can be honed to target them more effectively. Apart from profiling, Apteco's tools for customer data analysis and campaign management support you in numerous ways to target the ideal customer. Powerful visualisations like Venn diagrams, cubes and tree maps allow you to quickly identify important audiences and target them via multiple channels such as email, mobile, direct mail or social media.
To learn more about how Apteco can help you to target your ideal customer download our free eGuide on understanding customer data.