Apteco Live Online 2021
17 Nov 2021 | 09:30 GMT - 18 Nov 2021 | 12:30 GMT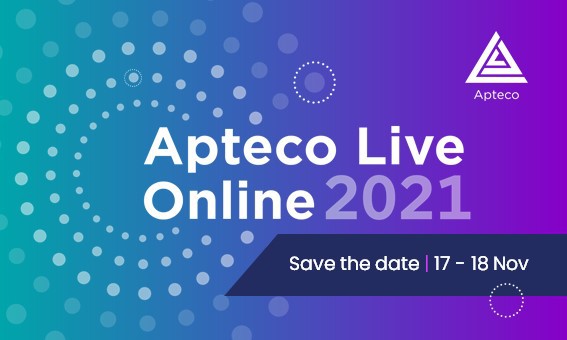 SAVE THE DATE for Apteco's annual user group conference! Following on from the success of last year's online event, Apteco Live Online 2021 will be held over two half-days on 17 and 18 November. 
#AptecoLive
Join us online for Apteco's 2021 user conference. Spread over two half days, you'll be able to experience our annual get-together online again this year. We've decided not to try and meet in person just yet (hopefully next year!), but we're as determined as ever to keep in touch with our partners and users.
We have a jam packed virtual agenda planned incorporating all your favourite sessions, including product updates, great guest speakers, real life case studies and focus groups where you get to deep dive into elements of our software. Our 'Best use of Apteco software award 2021' celebrates the innovative and successful use of Apteco software to drive marketing activities and improve the customer experience, and rewards those who have delivered measurable benefits to their organisations. We will announce the award winner at Apteco Live Online 2021! And as usual, there will be opportunities for you to get involved, bag your swag and win some great prizes along the way...
The essentials
When: 9.30am-12.30pm (GMT) Wednesday 17 and Thursday 18 November 2021 
Where: Online - we will send login details nearer the time to everyone who has pre-registered
Wear: Whatever you wish - there is no dress code again this year
Tweet: #AptecoLive @Apteco
All booking details and updates about the conference will be posted on this page over the coming weeks.
___
 
Apteco would like to thank all our delegates in advance for joining us at this year's online user conference! Let's keep close, but stay safe.
Email events@apteco.com if you have any queries.