Apteco Live Online 2021
17 Nov 2021 | 09:30 GMT - 18 Nov 2021 | 12:30 GMT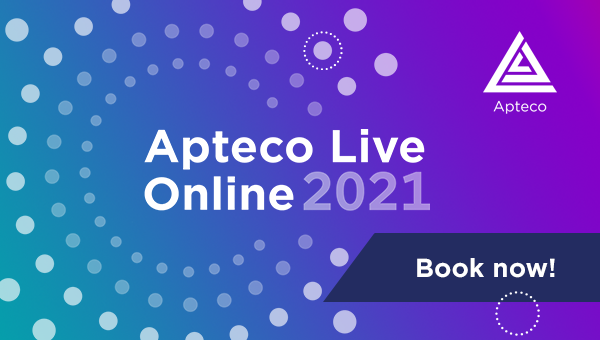 Join us for Apteco's annual user group conference! Following on from the success of last year's online event, Apteco Live Online 2021 will be held over two half-days on 17 and 18 November. 
#AptecoLive
Join us online for Apteco's 2021 user conference. Spread over two half days, you'll be able to experience our annual get-together online again this year. We've decided not to try and meet in person just yet (hopefully next year!), but we're as determined as ever to keep in touch with our partners and users.
We have a jam packed virtual agenda planned incorporating all your favourite sessions, including product updates, great guest speakers, real life case studies and focus groups where you get to deep dive into elements of our software. Our 'Best use of Apteco software award 2021' celebrates the innovative and successful use of Apteco software to drive marketing activities and improve the customer experience, and rewards those who have delivered measurable benefits to their organisations. Learn more about our 2021 award finalists here. We will announce the award winner at Apteco Live Online 2021! And as usual, there will be opportunities for you to get involved, bag your swag and win some great prizes along the way...
The essentials
When: 9.30am-12.30pm (GMT) Wednesday 17 and Thursday 18 November 2021 
Where: Go to our online event platform - you must use the same email address used to register. Please email events@apteco.com if you can't access the platform.
Password: Apteco-2021
Wear: Whatever you wish - there is no dress code again this year
Tweet: #AptecoLive @Apteco
All booking details and updates about the conference will be posted on this page over the coming weeks.
___
Agenda
DAY 1 - WEDNESDAY 17 NOVEMBER
9.30 Welcome
9.45 Development update
10.30 Break
10.40 Meet the finalists - Best use of Apteco software award 2021
11.30 Award voting - all delegates vote for their favourite award entry
11.35 Focus groups - choose 1 out of 6 options
12.25 Closing remarks
12.30 Close
DAY 2 - THURSDAY 18 NOVEMBER
9.30 Welcome
9.40 Keynote - Andreas Ekström
10.30 Break
10.45 Quick-fire poll
11.05 Focus groups - choose 1 out of 6 options
11.55 Panel session
12:20 Best use of Apteco software award winner announcement
12.30 Close
___
Our keynote speaker - Andreas Ekström - The Power of &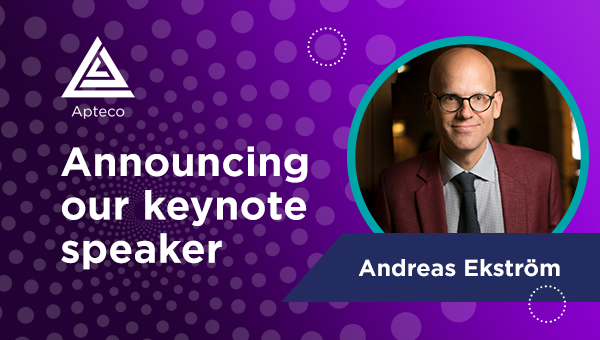 Andreas Ekström is a Swedish author and futurist, who has spoken to audiences all over the world. His topic: our digital future. His brand new keynote is called "The Power of &", and is a call to arms for nuanced thinking in our digital decision-making. Andreas outlines the most important conflicts of our time – and identifies where society as a whole, citizens and companies, need to move forward to build something that is not only good for today, but also stands the test of tomorrow.
___
Focus groups
We will be running the following focus group sessions on both days of the conference so that delegates can attend two out of the six options.
There is no need to pre-book this year (except for the 'Initiate, personalise....using WhatsApp Business' session), you simply choose your preferred session from within the online event platform when it is time for the focus groups to start. 
---
Initiate, personalise and orchestrate chat with your customers on the world's most popular messaging app, using WhatsApp Business
PRE-REGISTER HERE
(Please pre-register for this interactive focus group, so you can take part in the live demo)
In this session, you will learn how to benefit from Facebook's recently launched WhatsApp Business API. We will show you live how you can initiate, personalise and orchestrate a WhatsApp chat session with PeopleStage campaign automation. Using an example use case from the travel sector, we will run a cross-selling campaign using multiple channels including WhatsApp. Come and see for yourself how it works and impress your colleagues when you get back to the office with your knowledge of how WhatsApp can be integrated into your marketing communication plans in 2022.
With Martin Clark, Managing Director and Florian von Bracht, Partner Manager, Apteco GmbH
---
Design and connect data: An update on FastStats Designer developments in 2021
Join Tim Heron for a round-up of developments made to FastStats Designer in 2021. Tim will talk about new features and improvements covering everything from orphaned records, row filters, loading JSON format data, online help and deployment. Something for every FastStats Administrator!
With Tim Heron, Senior Developer, Apteco Ltd
---
Steering the customer journey
This session will explore how behavioural modelling incorporates predictive analytics into your management of customer journeys. It will include a comparison of these and other related topics such as segmentation and modelling. It will demonstrate how the new functionality in FastStats can help you steer your customers along the most profitable journeys.
With Ray Kirk, Consultant Developer, Apteco Ltd
---
The Digital Marketing Landscape in 2021 - Where brands should focus their time and budget
There are a multitude of ways for a brand to market themselves online and each channel contains many layers of complexity and different levels of return. It can be hard to sort through everything and distinguish between valuable opportunities and wastes of budget. In this session, Paddy will give an overview of the current digital marketing landscape, show which channels are available to you and the pros and cons of each one. He will also talk about how to choose the right channels for your brand whilst keeping your customers front of mind.
With Paddy Moogan, Co-Founder, Aira
---
Apteco Dashboards, the future of data driven marketing
A dashboard, much like a picture tells a thousand words. In this session we will explore how Apteco Dashboards take data visualisations to a new level. Using practical examples, we will explore how Apteco dashboards are more than a means of conveying information to your peers, colleagues, and clients. They are a powerful tool that can drive your marketing strategies and quantify your return on investment.
With Ade Ewart, Managing Director, Apteco Australia
---
(Nearly) everything you want to know about expressions!
Expressions in Apteco software can be something you love, or hate. Either way, they are one of the most powerful tools in an analyst's arsenal. In this session Chris will cover the places in which they can be used within Apteco's marketing software tools, such as selections, cubes and data grids. Through the use of a range of different marketing use-cases Chris will show lots of different ways in which expressions can be used, including geographical calculations, string functions, cube look ups, use of queries, aggregations, list functions and set functions.
With Chris Roe, Developer, Apteco Ltd
---
___
Invitations
Email invitations have been sent to Apteco approved partners so that they can invite their clients. Due to a high demand for attendance at the event places will be limited and must be booked in advance. If you are an Apteco software user, please contact your Apteco approved partner if you would like to attend.
___
How to book - NOW OPEN FOR REGISTRATIONS
We are using the Eventbrite online booking platform to manage registrations using company booking codes. Please do not use codes for delegates at other organisations. Our partners can register places and manage bookings on behalf of their colleagues / clients, or alternatively they can forward the details to allow delegates to register and manage their own bookings. The Eventbrite event password and booking codes have been emailed to partners.
Places must be registered via Eventbrite and will be allocated equitably for all partners and clients. There is a limit of five places for each client organisation wanting to attend. All delegates must have a valid Apteco software licence when the conference takes place. We will maintain a waiting list if we have excess demand for the event. 
___
Delegate packs - shipping address
Delegate packs will be posted shortly before the event so please register early (ideally by Friday 29 October, although we'll keep posting them right up to the event!) to avoid disappointment. If you would like a delegate pack then please enter the shipping address you would like it posting to during registration. As many delegates are still likely to be working from home and will want the pack sending to a home address, please be assured that Apteco protect company and personal information to the same high standard. We will use the shipping address supplied during registration only for the fulfilment of your delegate pack and any post event gifts or prizes in relation to this event. This information will not be retained by Apteco or entered into our CRM system. You can view our privacy policy here.
___
Apteco would like to thank all our delegates in advance for joining us at this year's online user conference! Let's keep close, but stay safe.
Email events@apteco.com if you have any queries.