Apteco awards first technical accreditations
Posted: 12 Mar 2014

Apteco Ltd is pleased to announce its first two accredited partners in the new FastStats® Designer Administrator Accreditation - Adroit Data & Insight and Celerity Information Services.
Representatives from both organisations attended the one day course at Apteco's training suite in Warwick. They passed a rigorous assessment carried out by Apteco's consultants in which they needed to demonstrate their ability to use the FastStats® Designer tool to build and publish a FastStats® system.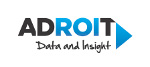 Apteco Consultant, Andy Chislett comments:
"Both delegates proved their ability to use Designer competently as well as a good understanding of the FastStats® data model. We are confident they will do this for their clients and maintain their accreditations for many years. Congratulations to both of the delegates."
Apteco partners with FastStats® accreditations are highlighted on the Apteco online partner directory so that potential FastStats® users can see which organisations hold accreditations when searching for a suitable supplier.
About Adroit
Adroit is a specialist data & insight agency providing organisations with advanced analysis and systems solution capability. To get in touch with Adroit, contact Nigel Magson on 01285 850644 or email nigel.magson@adroitinsight.com. Website www.adroitinsight.com
About Celerity
Celerity helps brands to improve the way they communicate with their customers through the intelligent use of data and the implementation of marketing analysis and automation solutions. They offer a complete range of marketing data services that add value and deliver financial benefit to the strategies of their global client base. They specialise in making complex marketing systems easy to understand and hassle free for businesses. Their clients include Allianz, Cancer Research UK, Spirit, Honda, First Great Western, Zurich and Ford. Visit www.celerity-is.com for more information.