Apteco named Warwickshire's most cycle-friendly business
Posted: 27 Sep 2018
Apteco recently gained the coveted title after entering a search to find companies who encourage a cycling culture throughout the workforce. Apteco fosters an active environment and have strong links with local clubs such as Warwickshire Amateur Cycling Club, Warwick Lanterne Rouge Cycling Club, and Royal Leamington Spa Cycling Club, taking part in regular charity rides and events. Apteco's team make daily use of a purpose-built brick bike shed, complete with cycle hangers, and a dedicated locker room fitted with storage and showers. Apteco's Bike-to-work Scheme is run in partnership with local bike shop John Atkins Cycles and has been in effect since 2009, encouraging employees to get in the saddle for their daily commute.
Matthew Maltby, IT Manager at Apteco and leader of the cycling pack in the office, advised about some of the other things Apteco get up to throughout the year: "Privately, we have our own Strava Cycling Club for a bit of internal, friendly competition. Once a week throughout the summer, there is a bike ride after work for employees and their friends and family, and we have an annual bike ride where customers join the team after work for a road ride with a beer stop along the way."
Matthew added that the team are always looking to get involved in sporting events, and not just cycling. "We have great links with the local community. With everything we have going on, it's a pretty full-on schedule," he said. 
People are often discouraged to cycle to work due to a lack of facilities, Matthew suggested that this would be a worthwhile project for companies to undertake: "I know other people that would like to get involved but either the infrastructure simply isn't there, or they don't feel comfortable making use of them. If you have a long way to travel, it can be a good workout, so showers and changing rooms are essential."
"Apteco employees regularly mention they feel invigorated and more alert after they start cycling to work, and it eases the frustration of sitting in traffic. We now have 22 out of 42 employees who cycle. I think if more businesses thought about putting good facilities in place, or improving the ones they have, then more people would consider cycling to work."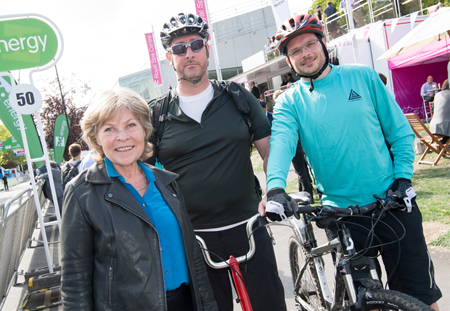 Matthew Maltby and Stuart Williams from Apteco seen here with Councillor Izzi Seccombe OBE – leader of Warwickshire County Council at the finish line of the Nuneaton to Royal Leamington Spa stage 4 of the 2018 Tour of Britain