Apteco Q2 2021 software release now available
Posted: 14 Jul 2021
Discover all the latest features in the Q2 2021 software release
Apteco is constantly investing in the evolution of the Apteco Marketing Suite™ to meet the diverse needs of the marketing community. In our latest Data Trends Report over 76% of survey responders rated customer journey analytics as a key marketing trend in 2021. The Q2 software release aims to help marketers and data analysts track every single touchpoint in the customer journey, which allows you to uncover insights more effectively.
In the FastStats Modelling Environment users are now able to create detailed customer journey selections, from a sequence of events in order to identify and interpret the patterns in customers' behaviour. Our newly developed interface in FastStats allows users to quickly create complex selections that were previously not possible. Improvements to thematics in maps, such as user-defined shading, selectable thematic map legends, and colour pushpins, aim to help users identify useful journey insights more easily.
The segmentation functionality in FastStats has been enhanced to allow for more granular reporting, which is critical when tracking segments that change very quickly. Reporting points can be set in terms of minutes and hours rather than days, weeks, months, etc. Elapsed Time Segmentation supports the customer journey analysis. This allows you to examine changes in segment membership leading up to a given point, such as the date and time that a person made a significant purchase or cancelled a subscription.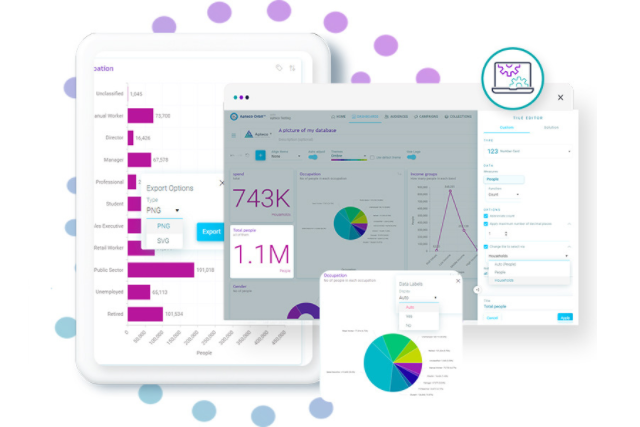 Development of the Apteco Orbit platform continues to be a key focus. Apteco Orbit users who license any of the campaigning bundles can now easily create targeted audience selections, which can be exported and broadcast via their chosen ESP. Campaigns created in Orbit are automatically drawn in Apteco PeopleStage, without needing to use diagrams or wizards.
To make reporting from Orbit even easier, the ability to download chart visualisations as an svg or a png image has been added. New categorical colouring in charts are available with the ability to configure how the tiles display data labels. Users can choose to turn data labels on or off and abbreviate volumes. To make Apteco Orbit dashboards more intuitive and even clearer, the way in which data is presented in dashboard tiles has changed.
Apteco partners and customers can login to read the full release notes, including knowledge base articles for the Q2 2021 software release.