Apteco supports Warwick community hub creation
Posted: 25 Jun 2019
Members of the Warwick community are teaming up to help create a new community hub for the town and are appealing for the public's help. The initiative, known as Warwick cycle hubs, is supported by Apteco, who takes pride in having an active workforce and has been running the Bike to Work scheme since 2009 in partnership with local bike shop John Atkins Cycles.
The initiative is being spearheaded by Lara Smith who owns the Smithery on Smith Street, Warwick. Lara, other traders in Smith Street and members of the Warwick Amateur Cycling Club (WACC) have teamed up to create a community space and cycle hub by cafe Happy Puccia.
"We really hope the project is successful so that it can be rolled out across Warwick as cycling has become so popular and not only has health benefits but environmental bonuses too. Matt Maltby and the team from Apteco, one of our major sponsors so far, have been very supportive of the project. They were named Warwickshire's most cycle-friendly business last year."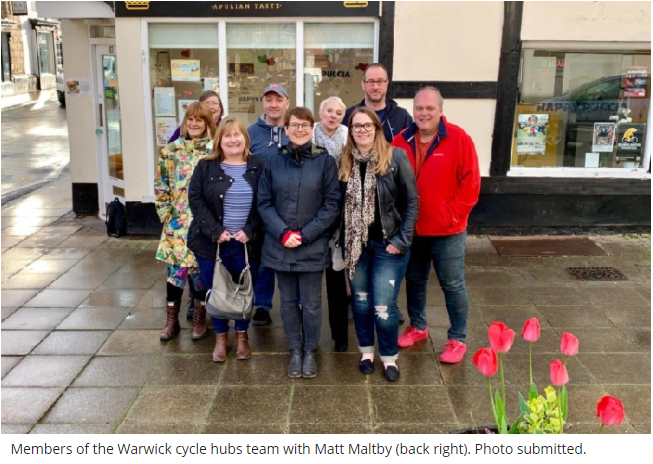 Of the 42 Apteco employees based in Warwick, 22 of them cycle commute and ride recreationally. Cyclists from Apteco are members in many of the local cycling clubs, including Warwick Amateur, Warwick Lanterne Rouge and Royal Leamington Spa.
Apteco actively encourages employees to take a break from their desk and get out on the street to cheer on 'The Women's Tour' when this high profile race comes through the town. Apteco provides employees with a brick-built bike shed, fully equipped with cycle hangers and a dedicated locker room with storage and showers available for all to use. 
Apteco is proud to support this community project as an important addition to all the work already being done to encourage cycling in Warwick.