Don't forget their birthday!
It's your customer's birthday - make sure you deliver the communications they're expecting. Give your customers the communications they want.
You remembered to send a card, right?
It is quite common these days for companies to want to send promotions, discounts, or a simple "Many Happy Returns" message to their clients on or just before their birthdays. Sending a birthday message can be a great way to say thanks to customers for their loyalty and gives a feel-good factor to your brand when your customers are already likely to be feeling pretty happy!
In some cases, birthday promotions can be used effectively to encourage your clients to purchase your products and spend their special day in your restaurant or store. Prezzo, the popular high street Italian restaurant chain, for example, send a multi-stage programme of emails, targeting customers with an upcoming birthday and encouraging them to celebrate at Prezzo. This multi-stage campaign uses a customised offer channel to ensure that the birthday promotion is unique to the customer and only redeemable by that recipient.[For more detail of Prezzo's award winning use of FastStats read our case study]   
How do you set up such a campaign?
As the Support Manager at Apteco, I often get requests from clients about setting up birthday campaigns or other regular communications based on anniversaries. These can include promotions based on subscription renewals, insurance policy expirations and membership upgrades -all of which need to be accurately timed.
People ask,'if you have a date of birth field (or other important date) in your FastStats system, is it possible to select customers who have a birthday or renewal coming up in the next 7 days'?
My answer is 'yes', let me explain how this is achieved using FastStats Discoverer:  
Using FastStats Discoverer to set up campaigns based on anniversaries
Step 1: Using the date of birth field in your FastStats system, calculate the next birthday date.
We can derive in an Expression which determines when a person's next birthday occurs by making use of the DOB variable and the 'NextDate' function.
The following Expression will show you how a person's next birthday can be calculated:-

Checking this using the Data Grid tool gives the following results: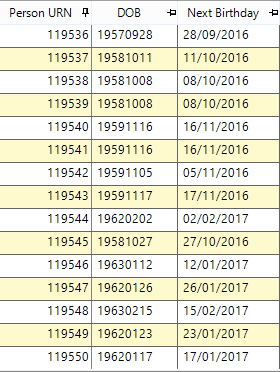 Step 2: Calculate the number of days until their next birthday
What we can then do is use the 'DateDiff' function to compare how many days there are from the date generated by the function above (their next birthday) to the current date, expressed via the today (0) function. If, for example, this is between 0 and 7 then the subject must have a birthday coming up in the next seven days.
The syntax of the 'DateDiff' function is
DateDiff(date a, date b, units)
so we just need to specify today's date as 'date a', the date of the next birthday as 'date b' and "days" for the units i.e. we want the number of days between the two dates.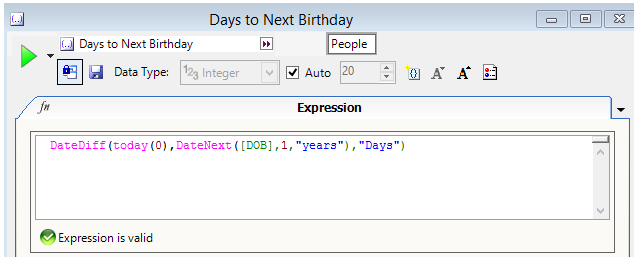 Again, putting this on a Data Grid gives these results: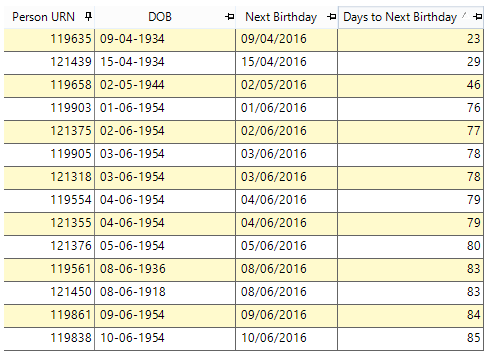 Step 3: Create a selection of customers with birthdays in the next 7 days.
You can then use this Expression directly in the Selection tool to get a count of how many customers in your database have a birthday in the next 7 days. In this example there are 552 people with a birthday coming up within this time span.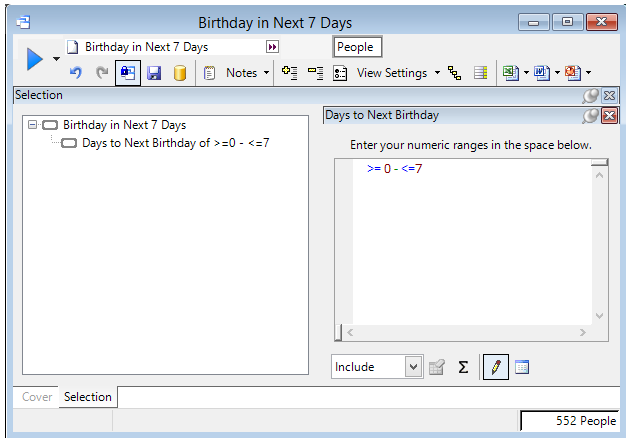 Step 4: Send your customers their birthday promotion
This selection of customers can be quickly exported for use in a campaign, or, you can upload their details directly to your chosen email broadcasting platform. Furthermore, now that the underlying selection is prepared you could automate the process to run regularly so that you don't need to remember to do it. This selection could be used as an audience within a FastStats PeopleStage campaign. The campaign could then be scheduled to run, automatically uploading the data to your digital email broadcasting provider, triggering the broadcast and allowing FastStats to track the responses.
There are endless variations of this birthday example that you can develop to create timely promotions based on the data you have available. If you have regular communications that you would like to send but don't have the time or resources in your team to schedule them each day or week, why not consider automating the process? Your customers will love the gesture and you will be able to spend more time working on new promotions and offers for the other 364 days of the year.
Takeaways:
Date based promotions are a great way to boost customer engagement.
Using FastStats enables you to easily set-up date based campaigns.
This process can be automated to free up time for you to spend on other campaigns.