Adroit providing solution for Marketing Punch
Posted: 01 Oct 2015
Marketing Punch develops list management & selection solution with Adroit
New FastStats client Marketing Punch is a leading provider of online acquisition data to the UK, France and Australia. Their business has been running since 2004, growing to a point that they now have an extensive range of websites collecting lifestyle and competition data on behalf of an extensive portfolio of brands and organisations. They provide over 100k targeted leads a month with appropriate customer permissions for follow-up, and have a range of email marketing services.

Adroit have developed a new single customer view (SCV) for Marketing Punch that will link various data sources together, allowing access to an extensive range of data for supply on to Marketing Punch's end customers. The new system has a front-end access using Apteco's FastStats system and SQL Server back end. Adroit have developed and implemented the solution which goes live in September. The FastStats system will enable quick and efficient selections, visualisation and analysis of the marketing database in order to further enhance the effectiveness of Marketing Punch's activity. The Marketing Punch team have been trained and the operational system is hosted & managed by Adroit at a Class 1 data centre.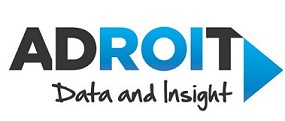 Nigel Magson, MD of Adroit notes;
"We are delighted to be working with Marketing Punch. We look forward to helping their team realise value from their data using the FastStats system, and support their marketing and business activity. "  
Charles Haynes, MD & Founder of Marketing Punch;
"We are working with the team at Adroit again due to their technical expertise, flexible approach and detailed knowledge of our business. They have developed and implemented the solution very quickly."
Simon Fletcher, Business Development Director at Apteco comments;
"We are delighted to hear that FastStats is being used to deliver quality leads to many businesses. We have a long heritage in the data and list broking sector and FastStats can deliver better returns and higher value leads, using its built in statistical tools. The ease of use and intuitive nature of the tool means that FastStats can be easily adopted by users and speed up processing times dramatically."
About Adroit
Adroit is a specialist data & insight agency providing organisations with advanced analysis and systems solution capability. Adroit was shortlisted for the Best Use of FastStats award in 2014 and has a number of accreditations for FastStats system design and training.
Adroit Contact Details
To get in touch with Adroit, contact Nigel Magson, Managing Director on 01285 850644 or email nigel.magson@adroitinsight.com
Website www.adroitinsight.com