Apteco introduces new branding at TFM 2017
Posted: 06 Oct 2017
The Technology for Marketing Exhibition 2017 was held on 27 and 28 September in London and Apteco exhibited at the show and sponsored the Data & Analytics Theatre. Apteco took the opportunity to launch the new branding of the Apteco Marketing Suite, with a new brochure and an impressive exhibition stand.
Analyse, Campaign, Share, the wording featured on the new communication material, promotes the full spectrum of Apteco's marketing solutions, specifically Apteco FastStats, Apteco PeopleStage and their new browser-based sharing application, Apteco Orbit.
Apteco Orbit is a platform-independent sharing application that works on tablets, phones and desktop computers and allows marketers and data analysts to deliver storyboards to colleagues and share insights with non-FastStats users. For more information about Apteco Orbit watch the video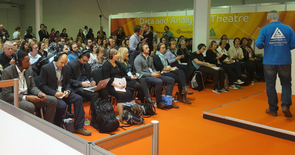 Apteco MD, James Alty presented in the Data & Analytics Theatre, on day two of the show, and covered the "Theory and Practise of Analytics used for Customer Journeys". He reviewed a range of analytical techniques and how they may be used to personalise and automate customer journeys. The session was well received, with no seats left in the theatre.
With over 100 marketing tech providers – TFM offers the widest range at any UK event and as always, the show was a resounding success, providing a fantastic opportunity for Apteco to interact with existing and prospective users and partners and to mingle with like-minded colleagues.