Apteco Launches in Australia
Posted: 30 Aug 2017
Apteco is proud to announce the launch of Apteco Australia held at the British Consulate in Sydney on Tuesday 29th August 2017. Attendees were welcomed by the Consul-General, Michael Ward, who addressed the topics of Big Data and Brexit. James Alty, MD of Apteco Ltd, presented an overview of customer case studies from the UK, including examples from the Financial Times and Marks and Spencer. Ade Ewart, MD of Apteco Australia, concluded the session by presenting the Apteco Marketing Suite, the Apteco partner model and the launch process.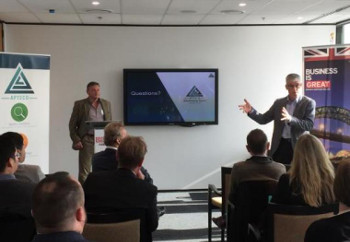 With offices in The Rocks, Sydney, the new business will serve the Australian and New Zealand markets through a network of approved partners. These partners will be supported with comprehensive marketing, pre-sales, implementation and technical support services built on the 30-year pedigree of Apteco in the UK. Partners are required to attend training to gain approval, but do not otherwise need to make any up-front payment to work with Apteco. Once a partner wins business based on the Apteco Marketing Suite, they will earn a margin on the recommended retail price.
The Apteco Marketing Suite helps organisations understand their customer base and marketplace better and use this insight to execute more effective campaigns as a result. Apteco has customers in many vertical markets, from not-for-profits to financial services and everything in between. With experience in media, retail, leisure, government, travel, gaming, automotive, sports and other sectors, the Apteco team can assist partners with scoping and delivering Apteco Marketing Suite solutions.
James Alty, MD of Apteco UK said "It is great to see the enthusiasm for the Apteco Marketing Suite in Australia. We got a very positive response at the launch, immediately followed by requests from prospective partners for follow-up meetings. I can see the marketplace is ready for our type of solutions and I'm excited about the opportunity that this presents for our new business. The team in Sydney, supported by the team in the UK, will be able to help partners deliver new solutions quickly and give their clients a winning marketing edge."
The Apteco Marketing Suite consists of Apteco FastStats, Apteco PeopleStage and Apteco Orbit.  Apteco FastStats is a broad and powerful, drag and drop analytical workbench application with great data handling, visualisation, predictive modelling and analytical tools. Apteco PeopleStage is a marketing campaign automation tool that uses a beautiful, zoom-able graphical interface to define campaign workflows with audience, content, delivery and response steps. Apteco Orbit is the browser-based reporting and sharing tool that can reach the corners of the organisation where the insight is most valuable.
Ade Ewart, MD of Apteco Australia commented "I've done launches in the past, but never experienced the reaction we got today. Within a few hours of the launch, we had our first prospective partner meeting and have meetings with other prospective partners, agencies and consultants morning and afternoon over the coming days. I think the Apteco Marketing Suite has hit the sweet spot in the ANZ marketing sector!"
Apteco Australia welcomes enquires from prospective partner organisations.  For details please contact:
Ade Ewart
Managing Director
Apteco Australia
ade.ewart@apteco.com.au
www.apteco.com.au
+61 (0) 2 8355 2524
Follow @AptecoAustralia for news about Apteco and the Apteco Marketing Suite