Apteco Sponsors Local Warwick Regatta
Posted: 05 Sep 2017
Apteco would like to congratulate all the crews who took part in the Warwick Boat Club Regatta held on Saturday 19th August 2017, along the Warwickshire River Avon.
The Regatta, held every year in Warwick since 1988, with the picturesque setting of Warwick Castle as the backdrop, attracts hundreds of crews from around the country. Novices, juniors, seniors and veterans race along the 500m course through Myton fields and St Nicholas Park.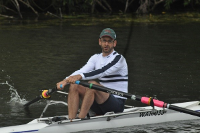 Apteco, whose home office is in Warwick sponsored the Open Primary Single Sculls event, which was won by Gur Rotkop from Warwick Boat Club. Gur only started sculling a year ago and this was his first regatta win, which is a huge achievement!
The Warwick Boat Club Regatta is free to watch and attracts hundreds of spectators each year. The regatta will be held again next year on 18 August 2018. For more information about the Warwick Boat Club visit www.warwickboatclub.co.uk