Cardwell Marketing join Apteco partner network
Posted: 17 Mar 2014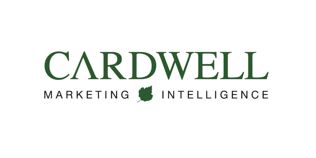 Cardwell Marketing have now joined Apteco's prestigious partner network of over 60 partners and resellers worldwide. Cardwell Marketing has joined a well-established group of marketing services providers and data specialists that supply and support the FastStats® software suite of marketing analysis and campaign automation solutions.
Apteco's Business Development Director, Simon Fletcher comments;
"Apteco are proud to partner with businesses that are well respected within the industry. Partners offer the skills and expertise which will enable clients to fully utilise the FastStats® software and have the optimal user experience. I would like to welcome Cardwell Marketing into our world class partner channel."
Cardwell Marketing is based in Leamington Spa and has expertise in the fields of creating SCV databases, cleaning and enhancing data, data lists, research and appointment generation. They work across a variety of sectors including business services, the financial sector and the construction industry. To find out more details about Cardwell Marketing you can view their page on Apteco's Partner Directory.
Ian Merriman, Managing Director of Cardwell Marketing comments;
"Our clients are fast growing businesses and after sourcing the UK market for an analytical and automation solution, we are delighted to not only be a client but a partner of Apteco."
About Cardwell
Cardwell Marketing enables organisations to dramatically increase their return on marketing investment, by the better use of database marketing, telemarketing, process, campaigns and insight. Since 2003, the company has been successfully helping organisations such as Mabey Hire, Lloyds Bank, Cambridge University Press and Manheim Auctions to increase sales from their marketing investment.
Our offering is based on access to multiple sources of data; by being 'data independent' we are able to select the best solution for the particular requirements of each client. These data assets are combined with state of the art data management and data matching techniques designed and developed specifically for the complexities of business data. Visit www.cardwellmarketing.co.uk to find out more.