Celebrating 10 years of Apteco GmbH
Posted: 27 Jun 2022

We're proud to be celebrating a decade of Apteco in Germany! 
On 23 June 2022 Apteco GmbH celebrated its 10th anniversary in the DACH region with numerous partners and supporters as well as British colleagues in Frankfurt am Main.
Over the last ten years, the German subsidiary of Apteco has built up an extensive partner network in German-speaking countries, and has developed successful relationships with 24 renowned partners. "In the beginning, it was definitely a challenge to be accepted in the German market especially as a foreign, owner-managed company, but we overcame this and gained the trust that is decisive in the German corporate world", explains Martin Clark, Managing Director of Apteco GmbH in Frankfurt. In addition to a strong partner network, Apteco is also proud of all the end users who use Apteco marketing software. Today, the industries represented are broadly diversified, from retail to utility companies, the fundraising sector or B2B trading. Since its establishment in 2012, the German team has grown steadily and in 2020 moved into a new, larger office located directly at the Main river, which not only offers the opportunity for onsite training with its own training room but also sufficient space for interactions with customers and partners.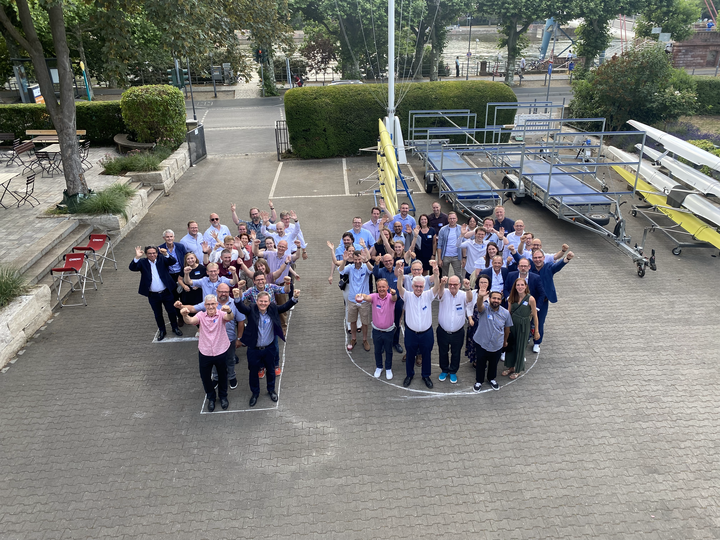 The future of Apteco GmbH is exciting too
Martin continues "In the upcoming months, the new Apteco Orbit platform will be available in the cloud as Software as a Service (SaaS). You could call the new opportunities that this opens for our existing partners the "Apteco Partnership 2.0" but at the same time, new potential arises for new partnerships". Furthermore, the Apteco approach of "Insight into action" is to be strengthened and its positioning in the market further expanded. "In this highly complex environment we have a very clear advantage: our independence", says Martin Clark proudly. "Because we are owner-managed, we are able to offer personal and sustainable support. We are flexible, can take customers' requirements into consideration quickly and have short decision paths. I like to use the analogy of us as a speedboat in between many big tankers".
After a two year break due to the Covid-19 pandemic Apteco is looking forward to meeting partners and customers in person once again, to exchange ideas and strengthen relationships. The anniversary celebration was the prelude to the numerous upcoming in-person trade shows and events, at which Apteco will be exhibiting and attending across Germany this year!
Apteco would like to thank all partners and supporters for the trust placed in its software, the great cooperation over the last decade and the successful anniversary celebration! With this tail wind Apteco is confident about the next 10 years.
Martin said, "If you were not able to attend our anniversary, I look forward to meeting you at the live events in Berlin, Munich or Cologne in the coming weeks and months!"