FastStats Orbit™ – new browser based application announced
Posted: 26 Jan 2017

FastStats Orbit™ is a new browser based, platform independent sharing application that works on tablets, phones and desktop computers. The initial version of the software allows analysts to deliver storyboards to colleagues and share insights with non-FastStats® users. Shared storyboards are displayed as "Collections" and contain sequenced, annotated and engaging visualisations created in Apteco's FastStats Discoverer™ marketing data analytics tool. 
James Alty, Managing Director of Apteco Ltd unveiled the new software application to 350 partners and clients at Apteco's 10th annual user conference, held at the British Film Institute, London on November 24th last year. FastStats Orbit™ is currently in a controlled beta testing phase with a limited number of Apteco approved partners and will be fully released in Q2 2017. 
All FastStats Discoverer™ licence holders will be able to share their analytics stories using FastStats Orbit™ technology for free. New users receiving a share notification email can register themselves with a free FastStats Orbit™ account and continue to share collections with their colleagues or wider audience. Sharing is controllable by email domain restrictions applied by the administrator.  
Share your analytics stories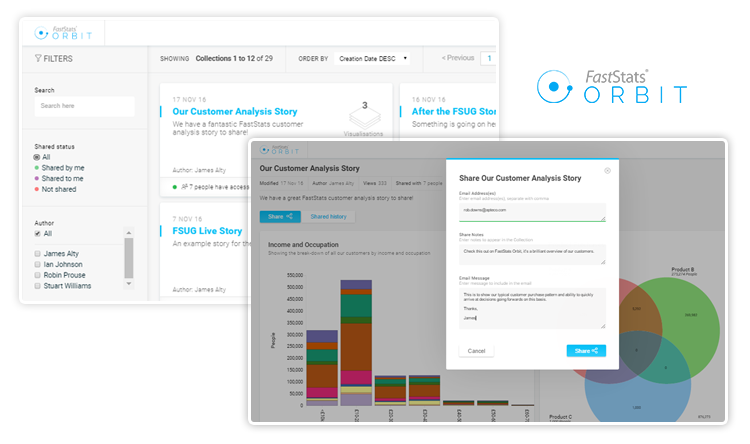 James Alty comments:
"FastStats Orbit™ was designed after extensive user research and benefits from our ongoing usability studies. We took time to understand the users' needs for sharing insights and telling stories from FastStats® work. This infectious sharing model allows FastStats Orbit™ to be used wherever it is beneficial within an organisation without licensing or cost implications. Users and administrators benefit from oversight of the use of FastStats Orbit™ collections and the users who are accessing them. Designed from the outset to provide a secure platform, FastStats Orbit™ ensures your organisation's insights are accessible to everyone who needs them and nobody else."
Created to operate on a range of devices with different screen sizes and orientations, the user experience is always smooth and responsive and requires little or no training. Whether you want to review charts on an iPad, Venn diagrams on an Android phone or the numbers on a laptop, FastStats Orbit™ provides an appropriate layout and interaction. Visualisations will always be up to date as FastStats Orbit™ automatically updates a collection as it opens to reflect the latest data refresh of the FastStats® system.
Created to operate on a range of devices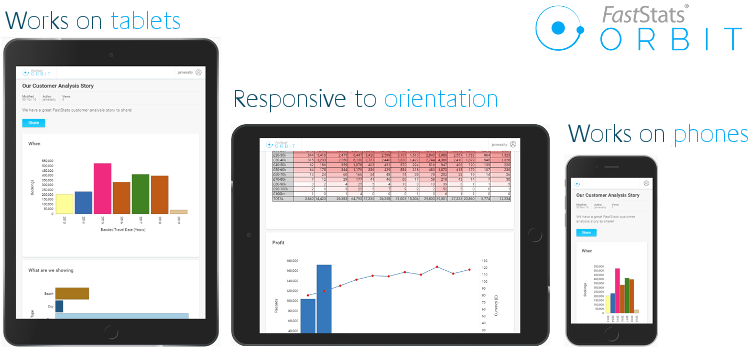 The FastStats Orbit™ user interface is rendered in a browser using data provided by a new RESTful API built on top of the proven FastStats® architecture. Deployable on departmental, data centre or cloud infrastructure, FastStats Orbit™ can provide speedy and secure visualisation services for many users in wide scale deployments.
FastStats Orbit™ initially supports storyboards containing seven types of charts, Venn diagrams and cubes. As the product develops over the coming months Apteco will include more FastStats® visualisations and expand its remit to include FastStats PeopleStage™ campaign and marketing reports. Interactions will be introduced so that users can create visualisations within FastStats Orbit™ and approve campaigns. Apteco will introduce license fees for additional interactive functionality as the product develops. 
FastStats Orbit™ includes an automatic update process so that new features and upgrades will be available to users as soon as they are released by Apteco. FastStats Orbit™ will be updated approximately every fortnight and maintain compatibility with any FastStats® software suite released in the prior year so users will always be working with the very latest interface and functionality.