Our 2021 winner is announced – Best use of Apteco software award
Posted: 24 Nov 2021
Apteco Live goes digital for the second year running
Apteco Live, Apteco's 15th annual user group conference, once again took place online this year. Much like last year, it was clear that Apteco would not be able to hold the event in London due to the COVID-19 pandemic. The second year of the live online version was held over two half days on 17 and 18 November. Apteco Live is considered to be one of the highlights of the year for Apteco's partners and end users, and an opportunity to demonstrate the latest enhancements to Apteco's range of marketing software solutions.
Winner of the 'Best use of Apteco software award 2021'
We received some fantastic entries again this year for our 'Best use of Apteco software award', all showcasing the effective use of Apteco software to drive marketing activities, improve the customer experience and to reward those who have delivered measurable benefits to their organisation as a result.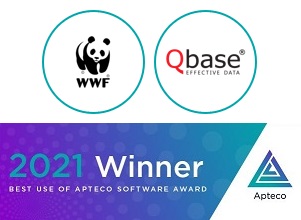 Congratulations to WWF UK and Apteco premium partner Qbase, who after live voting at Apteco Live Online 2021, were announced as winners of the 'Best use of Apteco software award 2021'! Their submission outlined how they used Apteco software to deliver a complex 15-stage customer journey spanning a full year.
WWF's objectives were to maximise membership and renewal revenues, maintaining supporter engagement whilst reducing direct debit attrition. They wanted to allow personalised supporter journeys, using triggered communications to multi-adopters according to activities relevant to them. 

Apteco FastStats and PeopleStage software has allowed WWF to use insight to drive personalisation through dynamic fields and templates, creating complex adoption journeys and enabling features such as live polls and quizzes to capture supporter preferences to inform future communications. Apteco software has also reduced the burden on internal resources, by providing supporters with alternatives to full cancellations, and feeding cancellation reasons directly back to the analysis team. It has made it possible to promote other animals for adoption to existing supporters based on their current animal/s, and created an 'order level' to enable multi-adopters to receive information about all the animals they support.
Clare Charrier, data systems development manager at WWF UK said,
"WWF already had FastStats and PeopleStage embedded in the organisation, but we weren't really using PeopleStage to its full potential. On top of that, we wanted to be able to refresh the creative in our emails . . . to produce more engaging content, able to surprise and delight our supporters."

"We were able to serve dynamic content for each of our 14 adoption species, as well as high levels of personalisation and a journey based on a supporter's broadcast interactions. Operating at a transactional level meant that our supporters were able to receive content about all of the adoption species independently and not aggregated up to a contact level."
The financial, engagement and operational results are impressive. Changes can be made to the PeopleStage journey by any one of the WWF team members within a day, rather than the one to two weeks it would have taken previously. Recipients who opened at least one email over the 12-month journey were 15% less likely to cancel their adoption than those who didn't open any.
Runners up for the 'Best use of Apteco software award 2021'
Congratulations to Cats Protection and Apteco premium partner Wood for Trees, who after live voting at Apteco Live Online 2021, were awarded 2nd place. Cats Protection completely transformed their reporting over the course of the pandemic to future-proof their continued success and growth. And finally, congratulations to the Royal British Legion and Apteco premium partner Qbase, who were awarded 3rd place. 
---
Learn more about Apteco's previous award winners in our awards hall of fame.