P&O Ferries & R-cubed win best use of FastStats award 2014
Posted: 12 Nov 2014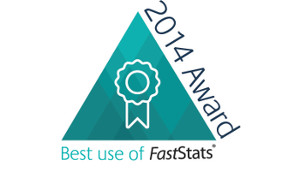 P&O Ferries, the country's leading ferry operator and their FastStats partner R-cubed are this year's Best use of FastStats Award winners. Their entry demonstrated how a FastStats PeopleStage campaign automation implementation is managing customer journey communications, successfully delivering 1000's of different message variations daily. Within just three months P&O have seen the activity delivering incremental ROIs of over 500.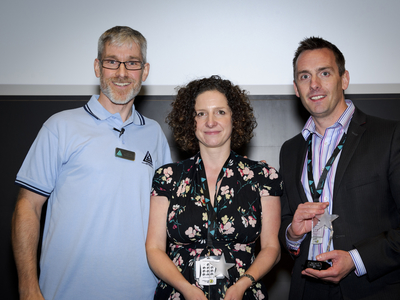 Left to right: James Alty (Apteco), Sarah Robertson (R-cubed) & Brian Corby (P&O Ferries)
The winners were announced on Friday 7th November at The Crystal, London, during Apteco's annual FastStats User Group Conference. Following presentations from the five finalist entries, over 250 conference delegates were invited to vote for their favourite entry.

In close second place came online and mobile games company Travian Games GmbH and their FastStats partner b.telligent GmbH & Co. KG. Apteco's first entry via its German business Apteco GmbH, Travian Games illustrated how they used FastStats PeopleStage to foster the engagement of newly acquired players using multi-language campaigns. More than 2,100 campaigns have been sent out, involving 60 million emails. Players receiving the campaign generated more than 30% more revenue.

In third place came specialist media and information company Haymarket Media Group and their FastStats partner Alchemetrics. They took a strategic approach to data driven marketing, rolling out a new portfolio email campaign where content would be primarily driven from a customer's brand engagement score. The new campaign is now sent once a month and has been expanded across all Haymarket brands, continuing to generate 40% more in revenue compared to previous approaches.

Finalists RAC and Occam DM illustrate how a Next Best Action platform created for their contact centre agents using FastStats, increases revenue persistency, retention and new revenue. The award entry from The Children's Society and Adroit Data & Insight shows how powerful, interactive FastStats Excelsior reports allow fundraisers to understand the profile and behaviours of supporters to inform effective cross-selling activities. 

All five Best use of FastStats finalist entries will be available as detailed case studies on this website shortly.