Prezzo & Planning-inc win Best use of FastStats award 2015
Posted: 16 Nov 2015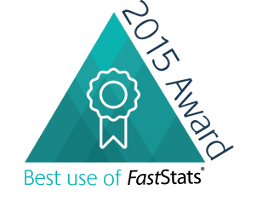 Italian restaurant chain Prezzo and London-based independent data consultancy Planning-inc, are this year's Best use of FastStats Award winners. The winners were revealed last week at The British Museum in London during the 2015 annual FastStats User Group Conference.  
Delegates were invited to vote for their favourite entry following presentations from the five finalist entries shortlisted by the Apteco judges. Prezzo and Planning-inc achieved the highest combined score, followed by ProTyre and Purple Agency in second place and RSPB and CACI in third.
Winner – Prezzo & Planning-inc
Delivered in mid-2015, Prezzo's FastStats implementation has had a truly transformative impact on a business looking to steal a march in a highly competitive sector. With the solution providing a gateway between till data, customers and the delivery of targeted dining vouchers, Prezzo is fully harnessing the potential of FastStats. The infrastructure built with Planning-inc represents a powerful customer experience management platform that is moving the dial for the business in terms of incremental revenue and guest management.

2nd Place – ProTyre & Purple Agency
ProTyre (the retail brand of Micheldever Tyres) and Purple Agency impressed with an innovative customer centric approach that allowed highly time specific reminders. Using data collected on customer driving behaviour to predict when brakes and tyres are likely to require replacement, FastStats enables ProTyre to promote offers on the products customers need exactly when they need them.

3rd Place – RSPB & CACI
The 2015 Vote for Bob campaign detailed in the RSPB and CACI award entry consisted of highly personalised follow up communications created with FastStats PeopleStage. With over 650 variants sent to Members of Parliament and their constituency voters, Bob topped a list of memorable named campaigns amongst MPs.

Melanie Davis, Marketing Manager, Apteco Ltd comments: "Every year we are astounded by the ingenuity of our clients and partners in their use of our FastStats software products to improve the customer experience and to increase campaign performance. I'd like to commend all of the 2015 finalists for the effort and commitment necessary to be involved. The final scores were highly influenced by votes from delegates at the conference, a real accolade considering that the conference attracts some of the most experienced analysts, direct marketers, campaign management and data professionals from a wide range of industries." 
Runners-up
The remaining runners-up Ageas Retail Ltd and Communisis Data Intelligence deployed FastStats PeopleStage integrated with Pure360 to achieve uplift of their 1.2m monthly multi-channel communications across direct mail, telephony and email. TD Direct Investing and Occam harnessed the power of FastStats to enable a triggered, automated programme of email communications to welcome, on-board and educate new customers to deliver some great financial results.