Qbase and Anaylin take home 2017 Apteco partner awards
Posted: 09 Jan 2018
QBase were announced as winners of the 2017 Partner of the Year Award and Anaylin received the Rising Star Award at the 2017 Apteco Partner Briefing on Thursday 16th November 2017. 
The event, held the evening before the annual Apteco User Group Conference, is exclusively for Apteco partners and offers an opportunity to network and meet the Apteco team, as well as providing a preview of what to expect at the Apteco User Group Conference the following day.
The Partner Awards are an exciting addition to the event and aim to recognise the commitment and engagement of Apteco partners. The winners of 2 awards were announced at the event – Partner of the Year and the Rising Star award.
This year's winner of the Partner of the Year Award was Qbase, who with their client Everton FC were also runners-up in the Best use of the Apteco Marketing Suite award, which was announced at the user conference. Qbase, was followed closely by Wood for Trees in second place and Celerity in third.

The second award, the Apteco Rising Star Award, was won by Apteco partner Anaylin whose exceptional engagement over the last year has seen them win valuable business for Apteco in 2017.

Business Development Director of Apteco, Simon Fletcher said, "Congratulations to our 2017 winners! Our partners have delivered exceptional engagement scores over the past 12 months and have contributed to the commercial success of both their organisations and Apteco. We are not your average software vendor and are only able to be successful through collaborative partnerships. We are hoping that other partners will be motivated to be as engaged and win this award in future years."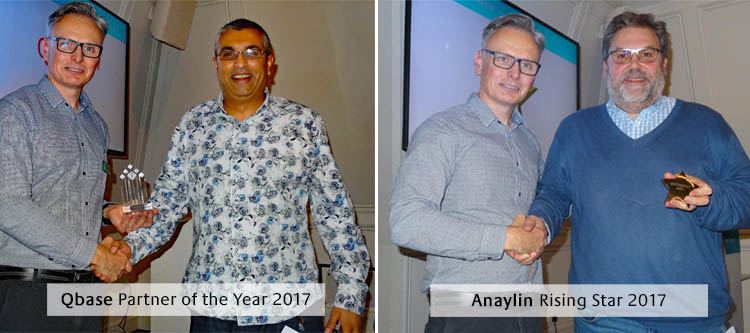 Photo: [LEFT] Simon Fletcher, Business Development Director, Apteco & Paresh Patel, Director of Consulting Services, Qbase; [RIGHT] Simon Fletcher, Business Development Director, Apteco & Jonathan Plowden Roberts, Director, Anaylin