Travian Games and b.telligent win best use of FastStats award 2016
Posted: 30 Nov 2016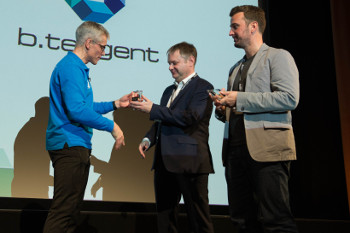 Munich based cross-platform games developer Travian Games GmbH and their FastStats partner b.telligent GmbH & Co. KG were announced as the winners of the 2016 Best use of FastStats Award competition last week. The final part of the competition took place at Apteco's 10th annual FastStats User Group Conference on Thursday 24th November at the BFI Southbank in London. 350 FastStats software users and approved Apteco partners listened to presentations from each of the five finalists before voting for their favourite entry.
In second place came long established North Yorkshire based financial business Skipton Building Society with Celerity Information Services, followed in third place by another German entry from media group RTL interactive GmbH and artegic AG. The other finalists were tyre service provider ATS Euromaster with TwentyCi, and Brittany Ferries with Anaylin.
Travian Games submitted an innovative entry illustrating how the new Facebook custom audience integration feature in FastStats PeopleStage was used to reactivate 30% more players. Niko Rees, Head of CRM at Travian Games and Dr. Wolfgang Leußer, Team Lead Architecture & Solutions at b.telligent commented:
"Using Facebook Custom Audience is a valuable additional channel for us to reach the formerly hidden asset of long time inactive players or players without permission. So our case is not only about reactivation with formerly not usable email-addresses, but also about combining channels to improve the effects of the existing campaign management."
During the initial stage of the competition the Apteco judges selected five entries that excelled above the others in demonstrating effective and skilful use of the FastStats software suite. The entries were judged on the creative application of Apteco's marketing data analytics and multi-channel campaign automation tools to meet business and marketing objectives. Measurable improvements to the customer experience and contribution to commercial success through ROI, campaign performance and improved marketing processes needed to be demonstrated. 
All five finalist case studies will be added to the Customer Stories area of the Apteco website shortly.