Apteco releases 2021 Data Trends Report
Posted: 17 May 2021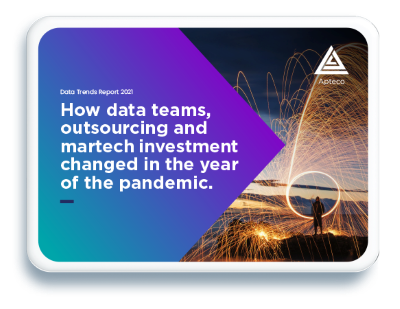 Apteco has released the Data Trends Report 2021: How data teams, outsourcing and martech investment changed in the year of the pandemic.
The report examines the results of an online poll conducted during Apteco's annual conference: Apteco Live Online 2020. The 150 respondents are a diverse group of data scientists and analysts, marketing communications and campaign professionals who use Apteco's marketing data analysis and campaign automation software.
Apteco has provided insight into all the latest trends and strategies for marketing professionals. The report shares how marketing team sizes, outsourcing and investment in marketing technology have changed over the last year and what effect the COVID-19 pandemic had on the adoption of AI, new technology and approaches.
Learn what the most important data trends will be for marketing, campaign and data insight software users in 2021. This includes customer journey analytics, personification (persona-based marketing) and consent preference management.
To read more download a copy of the Data Trends Report 2021: How data teams, outsourcing and martech investment changed in the year of the pandemic