Protyre and Purple Agency win award at Apteco Live
Posted: 23 Jan 2020
Protyre, the UK's fastest growing tyre retailer and long serving Apteco partner Purple agency are proud winners of the 2019 Best use of the Apteco Marketing Suite award.  Over 300 delegates at the Apteco Live 2019 annual user conference, held at the Royal Institute of British Architects (RIBA) in London, were given the opportunity to vote for their favourite entry.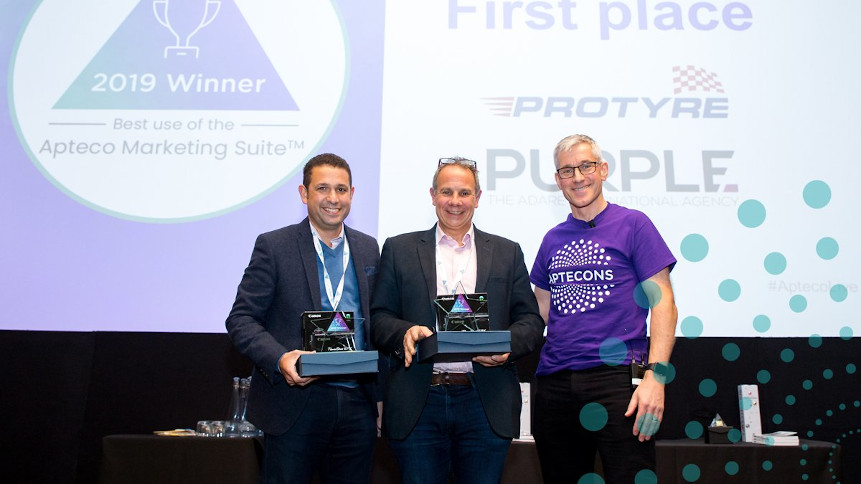 Each of the five finalists took part in an informal networking session during the November conference and gave short presentations before the final votes were placed. The 2019 finalists were:
English Heritage
Ageas Insurance | R-cubed
Protyre | Purple Agency
Petplan | TAP London
Nisbets | Qbase
English Heritage came in second place, followed by Nisbets and Apteco premium partner Qbase in third position.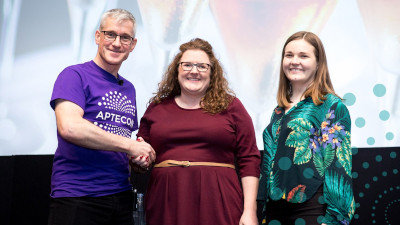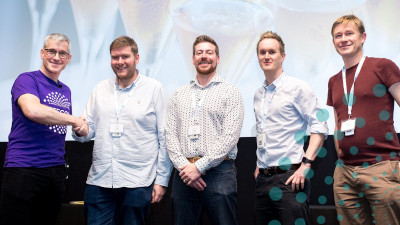 The award is to celebrate the effective use of the Apteco Marketing Suite to drive marketing activities, improve the customer experience and to reward those who have delivered measurable benefits to their organisation as a result. The Apteco judges had scored each entry and selected the finalists before they were judged by their peers and the entry with the highest combined score was revealed.
Protyre are no strangers to the "Best use of…" awards, having been runner up in 2015, when they developed predictive models for tyre wear, enabling timely tread check and replacement due reminders. This entry was for work that uses the Apteco Marketing Suite to increase the operational efficiency of their entire end-to-end MOT marketing process. This project impressed the Apteco judges and fellow Apteco software users as it created a closed loop marketing model using FastStats for analytics and PeopleStage for campaign automation.
MOT promotional offers and mailing volumes were automatically adapted "in flight" for each MOT Test centre, during the 6 week multi-stage, multi-channel MOT campaign cycle. The results delivered a positive impact at three levels - improved operational efficiency, increased conversion rates and record rates of MOT bay utilisation.
Protyre's Head of Retail Marketing, Morgan Jamison comments: 
"Since we first invested in a marketing database, and FastStats and PeopleStage, we have sought ways to maximise the return on our investment. We are a very data driven business, both from a customer marketing perspective and the way we manage and run our operations. This latest project, synchronising our customer marketing directly with our operational needs, has changed the way we think about what our database and the Apteco Marketing Suite can do for our business. We have already proved data can deliver happier customers, now we have happier shareholders as well!" 
Visit the Apteco award hall of fame to learn more about Apteco's previous winners over the last 10 years. Also learn more about previous finalists by reading their customer stories.