We're hiring
The Apteco team is about 60 people worldwide with a mix of skills across multiple disciplines. We have greybeards who've seen it all and apprentices who are learning afresh. What brings them together? They're all great people dedicated to producing powerful, useful, attractive software for our customers. We look for exceptional candidates who can bring enthusiasm and expertise to Apteco. We provide a high specification working environment in our office in central Warwick and support remote working in many roles.
Apteco's software is used by many big brands to drive their marketing decisions, including Everton FC, NEC Group, Greggs, Apple, Canon, Financial Times and Virgin Media.
Senior Software Engineer
Senior Software Engineer
Warwick, UK (with remote working), £35k - £55k plus significant bonus
About Apteco
We are a successful, privately owned software development business based in Warwick, UK with offices in Frankfurt - Germany, Sydney - Australia and Rotterdam - The Netherlands. Apteco produces world-class marketing analytics and automation solutions. Using Apteco marketing software is a powerful way for analysts and marketers to work together on insights, visualisation, modelling, automation and reporting. We produce great technologies that allow our clients to understand and intelligently communicate with their customer base. Our users include major domestic and international brands who use our solutions to help them understand their customer base and use this insight to automate personalised multi-channel marketing.
We provide an excellent working environment, flexible working practices and great rewards for our staff through a generous profit share bonus scheme.
About the role
Apteco marketing software is a powerful environment for analysts and marketers to work together on insights, visualisation, modelling, automation and reporting. It is a big challenge to provide beautiful, useful, powerful software for a wide range of users, so we hope you can help us!
We're looking for a Senior Software Engineer to help us produce powerful backend and integration functionality. You'll be joining a team who bring expertise, enthusiasm and experience to a great day job. We're proud of the software we create and will share our learning and techniques with you throughout the feature development.
This position is based in our high-spec Warwick town centre offices with views out over the historic rooftops and 1,000-year-old castle. Inside our office at Tink-a-Tank House, you'll find a modern, effective workplace with sit/stand desks for everybody, social spaces, plenty of meeting rooms for quiet thinking or noisy collaboration and changing rooms for your sport or commute.
Nobody knows quite how the Covid-19 pandemic will change working practices, but we've been supporting remote working for over 25 years and use a mix of IP telephony, web meetings, 360° web cams, Trello, Slack, Mural, etc.  We use remote working technology easily in every meeting room and at each desk, so everybody is included wherever they are working today. Our whole team has worked from home throughout the pandemic and will continue to do so until it is safe to collaborate in the office again.
We offer great remuneration and a share in the success of the business. For this role, the salary range is £35k to £55k, but if you make an exceptional contribution, we will reward you with a truly exceptional bonus. We will consider your experience when making an offer and will include comprehensive benefits and some unusual features like the ability to rent our log cabin in a national park for you and your whole family.
Requirements
We're ideally looking for people with:
Proven coding and architecture skills, able to understand distributed systems, parallelism and complex multi-threaded applications.  You'll be working on a great technology stack with services, message queues, databases, web services, etc. with security, performance and testability designed in.  Every line of code in the stack was written by a current, permanent member of the development team.  You can talk directly to the people who conceived and implemented everything that you will be working on. 
Established skills in professional software development with at least 5 years' experience.  We don't mind so much what environments and languages you have used before as great developers can learn those technologies more easily than we can teach wannabe coders all that makes you a real software professional.  But if you're interested, most of our stack is written in C# / .NET in Visual Studio with TFS, and we use Angular, SQL, HTML, CSS, JavaScript, TypeScript, WPF, F#, Python, R, Git, etc. 
Experience and confidence in unit testing, code reviews and the benefits of test automation.  We use continuous integration to see the latest and greatest build every day.  Staff from the whole company contribute to feature teams and we want you to participate and flourish in producing high quality, testable and useful features.  We test with our own SpecFlow framework, TeamCity deployed on AWS, Ranorex, BrowserStack and our own engine testbed.
The ability to work as part of an agile team with curiosity, self-direction and motivation.  You'll have the chance to learn every day at Apteco – we'll provide the environment and the interesting challenges, and you bring the intellect, skills and drive to make great software.  We encapsulate our approach in our Developers Guide to help you make the most of our development culture from day 1. 
A good Computer Science degree or higher.  If you've got a great research background and a PhD in something relevant, don't be shy, come and tell us about it.  We want the smartest people working on our software and can give you the commercial support to make amazing ideas real. 
It would be a plus if you have experience in machine learning or AI or data analytics, or developing big data services, or using AWS, or automating processes and testing or fell running or high-performance coding or working with customer support teams to solve end-user problems or something else great that you want to tell us about.  None of this is compulsory, especially the fell running bit.
What happens when you apply?
Send us your CV and a covering email to tell us why you would be great for this role at Apteco. Take a moment to write that covering email well, because it will be read by one of our Aptecons and you want to make the best impression you can. Send us links to anything great you have worked on – it will help differentiate you from the other candidates.
Send your application to us at jobs@apteco.com. We look forward to seeing it.
When we've read your application, we will decide whether to move forward.  If not, we'll drop you a polite email to thank you for your time and effort applying to Apteco. If we move forward, we'll schedule a short call with a member of our development team to discuss what you have worked on and why you're interested in the role. This call is also a chance for you to ask us any questions you have about the role or Apteco in general. Try asking us something we've never been asked before – it will make for an interesting conversation.
After the call, our team member will discuss your application with a few colleagues. If we like what we heard, we'll invite you to Warwick for a face-to-face interview day. You will be the only candidate here that day. We'll buy you lunch and ask you to demonstrate some of your skills and style on an example task or two. These are not tests with right or wrong answers but give us a chance to see how you approach things and whether you can collaborate. We'll share some of our insights and methods in software development so we both learn something new.
After that?  Well if you are really good, we'll make you a generous offer and work with you to find the best pattern of work in Warwick and remotely for you, your family and Apteco. If not, we hope you will still have learned from the experience and we promise to let you down gently.
The benefits
We offer great remuneration and a share in the success of the business through our profit share bonus scheme. If you make an exceptional contribution, we will reward you with a truly exceptional bonus.
What do we offer
25 days paid leave per year plus English public holidays
8% pension contribution
Membership of the Apteco staff discretionary bonus scheme after your trial period
Optional membership of the Vitality Healthcare insurance policy funded by Apteco for you and your dependents after your trial period
Company trip / weekend break for you and your whole family (once the pandemic allows)
Use of the company holiday home in Snowdonia after your trial period
We have a log cabin
We own a log cabin in the Snowdonia National Park. It sleeps 10 and we use it primarily for staff family breaks but also for offsite team meetings. We rent it to members of staff who take their kids or parents or friends to enjoy the great outdoors.
You get fully flexible working
We don't watch the clock, we just ask you to take responsibility for getting your work done and averaging your hours over the long term. Remote working is fully supported, and some staff are based at home rather than the office.
You get great kit
You choose your kit and we buy the best that we can. You get a laptop or desktop to suit you with the monitors and other accessories to help you get your work done well and without impacting your health.
We share our profit
We have a company-wide profit share scheme that provides members of staff with great rewards based on their personal performance and the whole company's profit. Your contribution to Apteco will drive your career and salary growth. This will be discussed during your annual career review. If you make an exceptional contribution, we will reward you with a truly exceptional bonus.
Secondments to our overseas offices
If you can contribute to growing our overseas businesses, you can apply for a secondment to work there for a period.
We also offer
A motivated team in a great workplace
Start-up atmosphere and excellent career prospects
A performance-related remuneration plus success bonus
Diverse and challenging tasks in an international team
Supplementary pension benefits
Training and further education
Regular team events
How can you apply?
Well, we hope you are going to get on with writing that great covering email and send a copy of your CV to jobs@apteco.com. We're looking forward to learning all about you. Hopefully, one day soon, we'll be working together as colleagues.
Your personal data
As part of making a job application to us, you need to disclose personal data. We commit to keep this personal data and our assessment of your candidacy confidential and to only use it for your job application. Your personal data will be handled in line with our privacy policy, but in summary, we will retain your application data as part of your staff records if you join us and will remove it after two years if you do not.
Great people
We recognise it takes great people to make a great company. We care for people by giving them a productive place to work and supporting their continuous development through training, conferences, degree programmes, apprenticeships, and mentoring. We provide an environment where they can excel and leave them to choose how to do it.
Real flexibility
We don't clock watch. We simply ask you to fulfil your role and be proud of what you contribute every day. Come in late or leave early as long as you're happy you average your hours over the long term. You can make personal use of all the company's facilities.
Big benefits
We pay good salaries and round out the package with benefits that include generous pension, healthcare, and parental support. You can stay at our log cabin or work a secondment at one of our overseas offices.
Organised upside down
Our organisation structure is drawn upside down compared to most companies. The directors are at the bottom supporting the team leaders who support all the staff. We draw it like that to emphasise the importance of the staff doing the real work.
A log cabin in the woods
We own a log cabin in the Snowdonia National Park. We use it for team offsite meetings, but it's primarily available for members of staff to rent at cost for their families. It's surrounded by woods and mountains and is a prime location for outdoor activities. Cycle the Marin trail? Whizz along Europe's longest zip wires? Bounce on trampolines in a slate cavern? All your choice!
Remote working
We make remote working as enjoyable and as effective as working at our office in Warwick. You'll miss out on the rounds of tea, but everything else should be just as easy by webcam and web meeting. We even have 360˚ webcams, so you can see everybody round the table.
Profit share bonus
We distribute a share of our profit as an annual bonus. This gives us all a long-term shared interest in looking after our customers. What are you going to spend your bonus on? A car? A bike? A share in a plane?
Annual offsite
We all get together with the families from all our offices once a year. We include partners and kids and pay for all the travel and accommodation. We've been skiing in Tignes, to the market in Marrakesh, and the hot pools in Reykjavik. Where would you take us? Barcelona or Berlin? Atlas Mountains or Arctic Circle?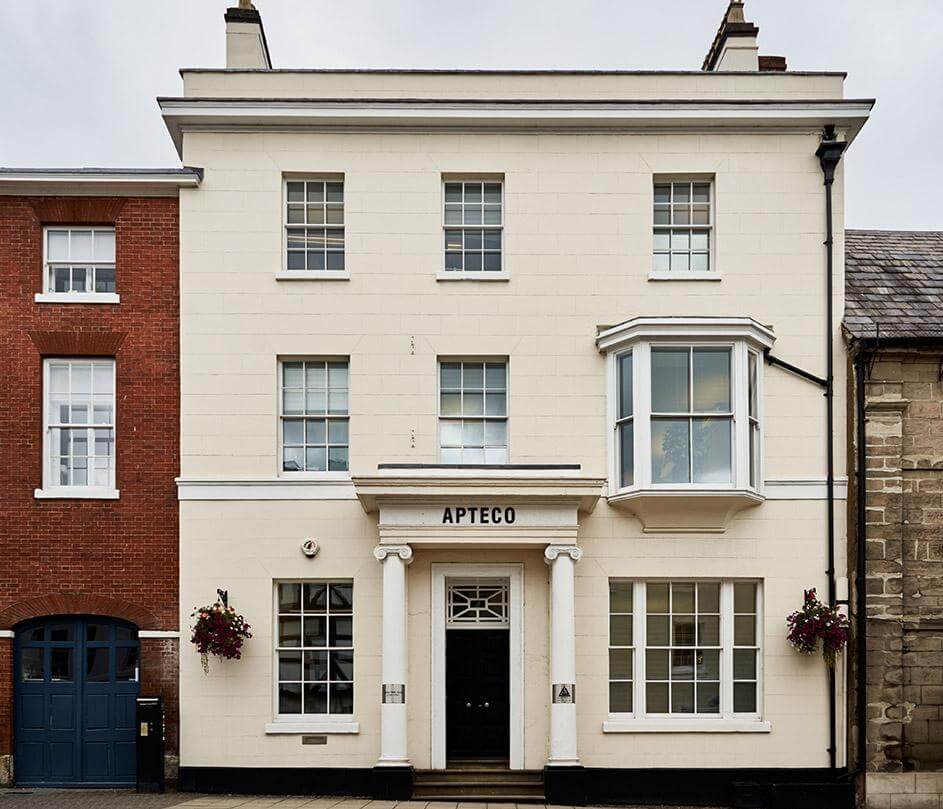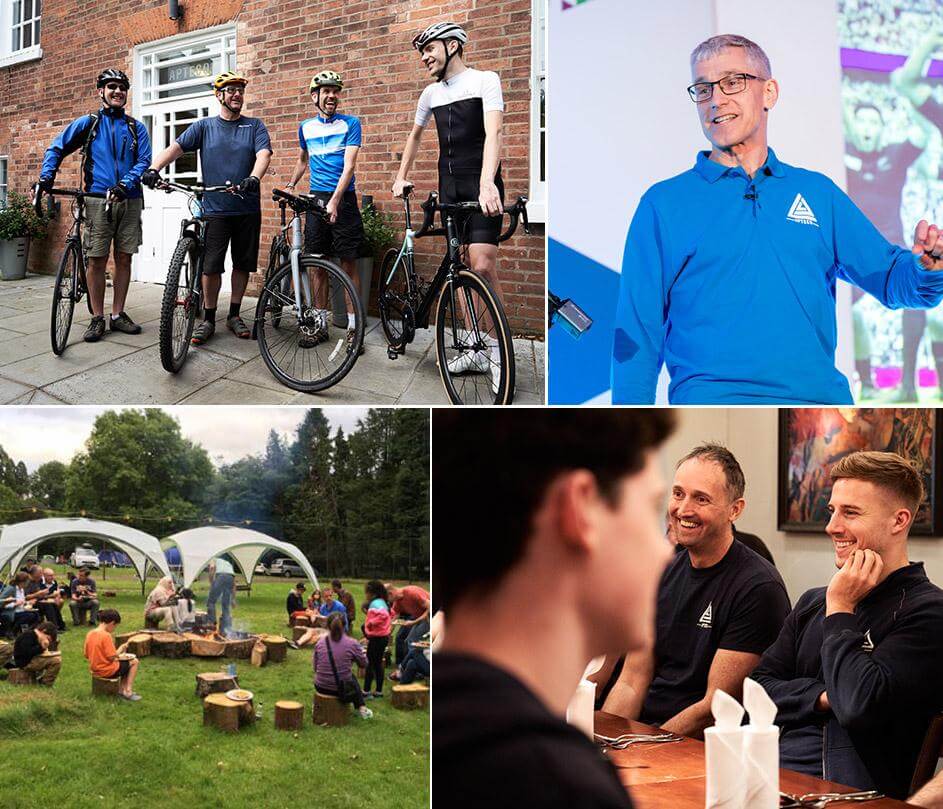 Most people tend to join Apteco and never leave, which is good for development as all of the code we've ever written has someone here at Apteco who knows that piece of code.
Simon Holderness, Development Director, Apteco
Financial
Excellent salaries and significant bonuses from the profit share scheme
Holidays
Five weeks holiday plus public holidays
New family
Generous maternity, paternity and parental leave
Long weekend
An annual long weekend offsite for you and your whole family
Pension
Generous 8% employers' pension contribution
Medical
Medical cover with coffee and cinema ticket activity rewards
Equipment
Your choice of equipment – sit/stand desk, great hardware, software tools
Log cabin
Use of the company log cabin in a national park for life in the great outdoors